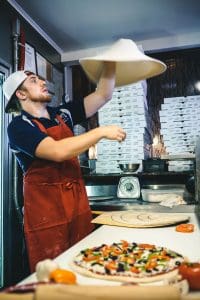 Every Italian in Pittsburgh and Pennsylvania at large knows about the now-notorious Pizza Milano attack. A heated exchange between a patron and the manager of the upscale Italian restaurant has now led to a $5 million lawsuit against the eatery, even though the manager has since been fired. As now is the best time to open your dream family-run Italian restaurant in Pittsburgh, it is important to learn a few lessons from the Pizza Milano case to avoid a similar outcome.
It could happen to anyone
While details of the case are still emerging with a lot of allegedlys and supposedlys still being thrown around, video footage depicts the situation as a manager losing his temper and using violence against a patron, after she tried to use the restroom. While the manager was fired after the incident, the restaurant has now been dealt a $5 million lawsuit on behalf of the patron for personal injury – and it doesn't look too good for the pizzeria. And before you think to yourself 'I would never let this happen,' realize that's what Pizza Milano's owner would have most likely thought as well. So what can all of us budding Italian-American entrepreneurs with visions of opening our own Italian restaurant in the city we love, learn from this case?
Train your employees on safety measures
While we don't know the former manager's motivation for his inexcusable behavior at Pizza Milano, all employees in your restaurant should know proper safety precautions for every situation that could potentially lead to safety issues. Lawyers at Tait & Hall explain that seemingly harmless tension can quickly escalate into a dangerous situation – with a lawsuit soon following. As a business owner, the last thing you want to hear is that violence broke out in your restaurant, so make sure all of your employees feel confident on what to do in potentially dangerous situations.
Set your rules and stick to them
One important thing to do for your restaurant is to not only set your rules of conduct, but to make sure they are known, implemented and enforced by every single employee you have. If your restaurant has a strict policy regarding the use of bathroom for non-paying customers, have a sign and make sure your employees are not making exceptions. Consistency is key in making sure there are no misunderstandings or confusion that could have disastrous consequences.
When we think of opening our own restaurant, delicious traditional Italian food and happy customers are the images we want to associate with it. However, to avoid customers–or employees, being put into dangerous situations where you could end up facing a massive lawsuit, make sure that every worker knows the proper safety measures and rules of conduct for your business. A safe workplace is a successful one.