By Nicky D Cooks
Every March 19th, we celebrate the feast day of St. Joseph. To mark this occasion we wear red clothing and eat Italian food.
St. Joseph is regarded by many Italian Americans as the Patron saint of Italy, especially those from the southern portion of the country. It is believed that St. Joseph prevented a famine from occurring in Sicily during the Middle Ages. On March 19th feasts are celebrated in his honor to mark this occasion.
The significance of the color red worn on this day, well it's an homage to St. Joseph.
As far as making a special dish for this day, I always go for a traditional peasant Italian food; Pasta and Beans. There are many variations for this dish, and honestly no one way is correct. The common thread for all of these dishes is the same, beans, pasta and some broth.
One of my favorites is a Pasta and Chi Chi Beans with Pork. Chi Chi Beans or chickpeas are a very versatile legume, and the flavors marries nicely with the pork. These beans also tend to hold their shape during the cooking process which is something I like. Using organic canned chickpeas is a great short cut if you want to make this soup and you are short on time.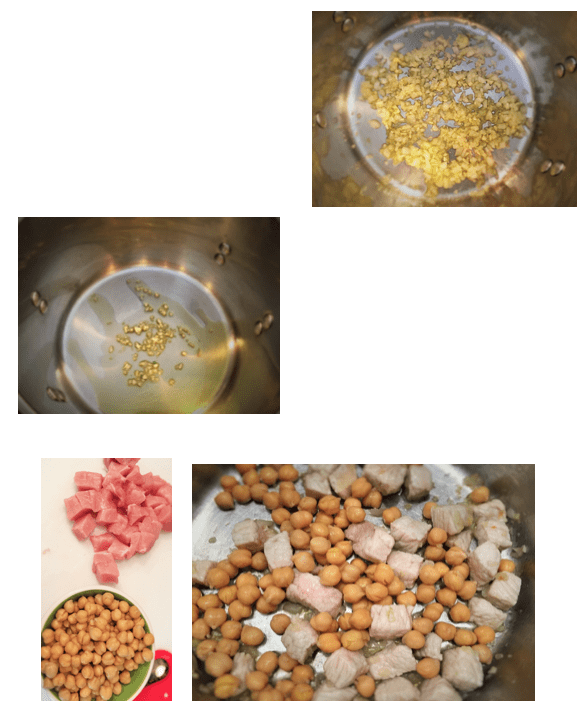 The key to this soup is the base, the vegetables. Sauté chopped garlic in olive oil, then some onion until they are soft. Careful not to let the garlic burn, season with some salt and pepper. You have started to build the layers of flavors in this soup. Add cubed pork and cooked beans to the pan, and cook until the pork is done. 
All the flavors are blending well together and the soup is almost complete at this point, add some San Marzano Tomatoes and simmer for about 20 minutes, making sure to break up some of the tomatoes. Adjust the seasonings as necessary.  The last minute or so of the cooking process, add some cooked pasta and let it continue to cook until the pasta is heated. Do not cook it too long with the pasta in it, because it will get mushy.  Use some reserved pasta water to thin out the soup to the desired consistency. Serve immediately, garnish with freshly grated Italian Grated Cheese and for a little kick try some hot pepper flakes.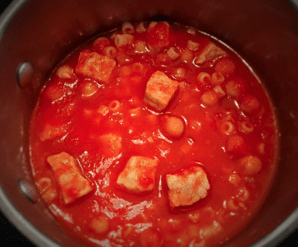 Nicky D Cooks: Pasta & Chi Chi Bean Soup with Pork in a Red Sauce
Ingredients:
1 lb Bonless pork chops (1½)- cut 1" pieces

2-3 tbsp olive oil

1 large onion- diced

3-4 garlic clove- minced

2 can (15 oz) chickpeas, rinsed and drained

1 can (28 oz) crushed tomatoes (San Marzano)

Kosher salt and Fresh ground pepper to taste

½ lb pasta cooked al dente- tubetini, ditalini

Freshly grated Italian cheese and crushed red pepper to garnish
Directions:
1. In a large skillet, heat oil over medium heat. Add onions and garlic and sauté until opaque. Add the pork to the pot and brown. Add the chickpeas, stirring to let them absorb some of the flavor of the onion/garlic/pork mixture.  Next add tomatoes and cover with water. Simmer the stew for 10-15 minutes and season with salt/pepper to taste.
2. Cook the pasta to al dente according to directions, drain and set aside. Save some of the pasta water.
3. Add cooked pasta to soup mixture, and adjust seasonings. If it is too thick you can add the pasta water. Garnish with grated cheese, red pepper if using and serve immediately.
Originally from Rhode Island, Nicky D Cooks is a writer for Ciao Pittsburgh who currently resides in Peters Township. You can find more of her recipes here.