By Nicky D Cooks
The Lenten Season is upon us again and I believe that there are only so many fish sandwiches this gal can eat.
My thought was always why limit fish to just this season? There are numerous fish recipes out there to try, perhaps I should expand my fishy repertoire and see what else I can make?
So throughout this year I did try many new fish dishes, and there were several that I really liked. However, there is one dish that I keep coming back to and it is the one that I just adore- Fish Pizzaiola.
Fish in Pizziola Sauce is a simple peasant dish, and is one that I grew up on. To me it is a comfort food, a dish that takes me back to my childhood.
This Neapolitan peasant sauce is made from tomatoes, olive oil, and oregano (and sometimes other spices). Pizzaiola sauce I have read loosely translates to "in the style of the pizza maker", so the ingredients replicate what one may see one the base (red sauce) of a pizza.
My spin on this dish is that the sauce isn't cook separately like some recipes call for.  For my recipe, the fish and tomatoes are cooked together. This was the way my family made it and the way I make it now.
Growing up in Rhode Island, Cod Fish was abundant so it was the fish of choice in our family. It was cheap to buy and you could feed a large family with this fish. If you were adventurous enough, you could buy the salted cod (Baccala), prep it and make with that.
Usually we went to the fishmonger to buy our fresh fish or went to the dock to see what the local fishermen brought in.
What I like most about this recipe, is that is marries nicely with most white fish.  Haddock, Cod, Tilapia all work well with this dish and I use them interchangeably. I have seen families use Swordfish and other fishes with this and it looks really delicious.
This is a very forgiving dish, it is easy to prepare and cook. So here are some things to note when you make this dish: cooking times will vary depending on the thickness of the fish that you are choosing to use. Fresh fish will cook quicker than frozen. A thin Tilapia fillet will cook quicker than a thicker piece of cod. The fish will be done once the middle is opaque, and becomes easy to flake into pieces with a fork.
When I make mine, I prefer to lay my fish piece on a bed of slices onions before I bake it. I find that it also will prevent burning of the thinner pieces of fish, however this is optional.  If you want some heat, add a pinch of crushed red pepper to the layer of tomatoes.
I hope that you try this delicious dish, I promise that it will be one that you will return to over again. Don't let the simplicity of this recipe fool you, it has rich flavors that are prefect when you want just a great fish dinner.
Buon Appetito,
Nicky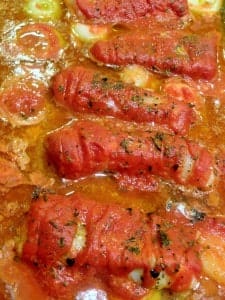 Nicky D Cooks: Pesci Pizzaiola
Copyright 2011
White Fish in herbed tomato sauce- a simple peasant dish that goes perfectly over rice pilaf, couscous or lightly dressed orzo in olive oil.
Ingredients
1 ½

 

lbs cod fillets or a light white fish

1 -2 cans small tomato sauce

2-3 cloves garlic, minced

1/4 teaspoon dried oregano

¼ cup (about) olive oil

1 large onion, sliced

Coarse salt and fresh cracked pepper
Directions
Preheat oven to 350 degrees. Grease the bottom of a 9×13 baking dish. Place the sliced onions on the bottom of the pan, then put fish on top of the onions. Pour a thin coat of the tomato sauce over the fish. Sprinkle oregano, garlic, salt and pepper, olive oil and cheese over the fish. Cover and bake fish in the oven about ½ hr (approximately) or until the fish is done. The fish will become white and flaky- this is when it is done.
For more information and great recipes, check out http://www.nickydcooks.com. 
Follow me on Twitter @ https://twitter.com/nickydcooks. 
Follow me on Instagram @ http://instagram.com/nickydcooks/
Facebook page @ http://www.facebook.com/nicky.d.cooks