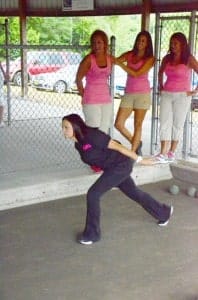 The World Series of Bocce just concluded in Rome, Italy. Rome's new mayor Joe Fusco also participated, mentioning his team was playing for fun during his opening remarks.
The mayor was dressed for the occasion, wearing his "Veni, Vidi, Bocce" polo shirt meaning "we came, we saw, we bocce."
According to the World Series of Bocce Facebook page, these were the final results:
Champions
Wickliffe Italian-American Club (Open Division) and Liquor Express (Ladies Division).
Wickliffe I-A actually had to battle back from the losers bracket to beat a very formidable Vandra Brothers team. Liquor Express continues to set the standard for professional, competitive bocce play.
A more comprehensive list of results will be posted soon.