By Nicky D Cooks
Growing up, I would escort my father on shopping excursion to the grocery store.  On Saturday mornings I would go with my dad, together we went up and down the aisles as he crossed off things on his shopping list.
It was one of my favorite things to do.  I loved the sights, smells and the sounds in the market.
One of my many childhood conundrums occurred as I traveling down the aisle that contained the bottled salad dressing. We bought things in this aisle, but never salad dressing.
I was always amazed at the various shapes of the bottles, the colors in them and their wild and exotic names.
"Catalina dressing, 1000's Island, French and Green Goddess", I would read the labels out loud. Then ask my dad about these dressings and ask him if he ever ate any of them. He would tell me which ones he knew of what they tasted like.
My father told me he was partial to blue cheeses dressing. I remember mouthing the words "Blue Cheese Dressing". I had never heard of it before nor had I ever pronounced it. I kind of liked the way it rolled off my tongue.
"Blue Cheese dressing, blue cheese dressing, blue cheese dressing", I kept saying in a sing song voice the way only a child can do. My dad just looked at me and smiled.
We never had salad dressing from a bottle as it was known to us in our house; it was just something that never happened. Every time we had salad, it was a homemade Italian olive oil and vinegar dressing.
My grandmother and mom always made this simple Italian Peasant style dressing. It was a staple for me growing up.

My mother would say "Why would I buy Italian salad dressing from a bottle, when that is I what I make at home…..besides that is not good Italian dressing".
As I got older and went out to dinner with my parents, I would try the various salad dressings on the menus much to my mothers chagrin.  She knew that many of the dressings were not going to be to my liking, and I would only peck at the greens on my plate.
My parents saw it as money being wasted, as for myself I was on a culinary adventure. I guess you could say it was both. I slowly began to cross off my list of dressings that I did not like, while my parents just looked at the plates of barely untouched lettuce being cleared from the table.
Through trial and error I have joined the ranks of the Italian woman in my family; Great Grandma Rosie, Nana Josephine and Ma. We all share a propensity towards a simple Italian Peasant olive oil and vinegar dressing. I guess it is in the genes, my taste buds were already predetermined to like this.
The older I get, the more I appreciate the simple and uncomplicated things in life. An olive oil and vinegar salad dressing is one of them.
If I am out to dinner, I will try different dressings. Mostly they are oil and vinegar based, not mayonnaise.  I do eat mayo, but I am not a big fan of it. I just do not like it as part of a salad dressing.  It is quirky and idiosyncratic, but that is me.
Don't ask me about my thoughts about a mayonnaise dressing for pasta salad, because I believe that you will already know the answer!
My husband will tell you that my quirkiness is due in part to my Italian Neurosis (it is a special kind of neurosis commonly shared among children who grew up in Italian American homes) and my fear of foods that I did not grow up with (example Jell-o, Manwich  or ravioli from a can).  Not so, I just do not care for this type of dressing. It has nothing to do with my fear of salad dressing from a bottle or my neurosis.
I guess I have carried on this tradition on with my children because they share my taste when it comes to salad dressings. My husband would argue that I have passed along my neurotic food genes to them, I just think of it as growing up with an Italian mother.
During the dog days of summer, I adore the tastes of garden fresh vegetables. I will crave one of my favorite go to salads, a simple Neapolitan Peasant Tomato and Cucumber Salad.
It is such an uncomplicated salad; the flavors are so intense due to the freshness of the vegetables.  They key to this is the dressing. It matches the simplicity of the salad itself because it only has two ingredients- olive oil and vinegar.
I like this type of salad because it is very forgiving and a variety of substitutions will work. Use whatever tomato or cucumber variety you like or is available, the key is that they vegetables should be very fresh and ripe.  The same can be said for the type of vinegar as well, a red wine or balsamic will work well in this recipe.
Remember the recipe is a guide, play with it and have some.  Be like an Italian cook, use what you like and what you have in your kitchen!
I have included my recipe for my Neapolitan Peasant Tomato and Cucumber Salad. It is a simple no fuss type of salad. Serve it with a big piece of crust Italian bread and it is the perfect dinner for warm weather eating, plus you can mop up any of that delicious salad dressing that is left at the bottom of your plate.
I hope that you enjoy it.
Mangia Bene,
Nicky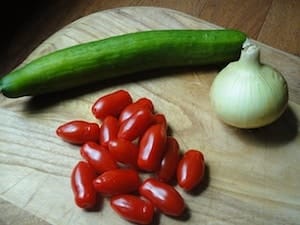 Nicky D Cooks Neapolitan Peasant Tomato and Cucumber Salad
Ingredients:
3-4 medium vine ripened tomatoes, quartered
½ medium sweet onion, chopped
1 cucumber- chopped into 1 inch pieces
3-4 tablespoons extra-virgin olive oil or to taste
3-5 splashes of red wine vinegar or to taste
Coarse salt and fresh ground black pepper
Directions:
Put the tomatoes, onions, and cucumber in a bowl. Toss with olive oil, red wine vinegar until all the vegetables are well coated. Adjust seasonings to taste.
Nicky D Cooks: I am owner and operator of Nicky D Cooks -Authentic Handcrafted Italian Biscotti and Pizzelle. I can be found on my blog and webpage @ http://www.nickydcooks.com/. Check out my Facebook page @ http://www.facebook.com/nicky.d.cooks or like my fan page @ Nicky D Cooks Foodie Fan Page for more information and great recipes.