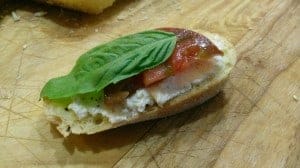 By Nicky D Cooks
When I think of ricotta cheese, I have fond memories of my childhood. I would see it used in various dishes and desserts that we ate. I can remember sneaking a few forbidden mouthfuls of this delicious delight from the colorful containers. I just loved the creamy texture and the pure taste of it.  Ricotta cheese is something that I enjoy to this very day.
I remember hearing about people in the family who would use ricotta cheese on bread, kind of the way butter would be used. I always preferred the spoon out of the container method, but it was something that stuck with me. As I got older, I did notice that some restaurants would use a "ricotta-like" spreads on sandwiches. I had not encountered a place that offered the unadulterated cheese as a sandwich option. I still had not seen a restaurant that gave ricotta cheese out with the bread baskets at the start of dinner, but I know it existed because I had heard murmurs of this occurring.
I realized that people were soon making their own ricotta cheese, and this is on my list of things to try. I have had really good homemade ricotta cheese and I must tell you it is out of this world. There are a few commercial brands that I favor, but if I can get the homemade kind I will go with the latter.
I like the small curd and the creamy taste of the homemade kind, so I realized that this must be the reason people are putting it on bread. So I knew that I just had to try it. I will tell you that it is truly amazing and I can see why this is done. The combination of the Italian bread with its softened center and crusty exterior joined with the delicate taste of this mild creamy cheese, it is an absolute peasant delight.
I wanted to see what I could add to this bread and cheese platform without altering the pure and basic flavors that made it so wonderful. I soon realized that this would become the base for many different concoctions. I could change this into a sweet or savory treat, I like how easily this worked with many kitchen staples.
By adding cinnamon and sugar, or seasonal fresh fruit and honey it became breakfast treat or a dessert. Adding good olive oil, sea salt and freshly ground pepper (or crushed red pepper) to a piece of bread with ricotta cheese, it becomes a great snack or the perfect light lunch. Adding a layer of sliced tomato, fresh basil and olive oil, it becomes the perfect warm weather meal. Serve it as part of an antipasto platter with a mix of other hard cheeses and cured meats, it becomes the perfect dish to serve as an appetizer.
The possibilities are endless of what you can do with ricotta cheese and bread. You are only limited by your imagination and tastes.
Ricotta cheese will continue to be one of my favorite cheeses to eat. I like to eat it on a good piece of bread. Try using it on toasted or grilled bread, you will definitely begin to think of a new way to dress your carbohydrate group. 
Ricotta cheese is still great for baked ziti, stuffed shells and cannoli, however this simply marvelous peasant cheese can stand on its own and be used in recipes other than the classic Italian American dishes.
I am sharing my recipe for my Tomato & Basil Ricotta Bruschetta. This is a very forgiving recipe, use whatever brand of ricotta cheese you like. Make sure that the tomatoes are ripe and use your favorite type. Adjust the seasonings to your taste, play around with it and have fun.
I hope you enjoy it.
Buon Appetito,
Nicky
Nicky D Cooks Tomato & Basil Ricotta Bruschetta
Ingredients:
Ripe Tomatoes
Fresh basil
Ricotta Cheese (about 1 ½ c)
Loaf Italian bread (baguette style), thinly sliced
Extra virgin olive oil
Sea salt and freshly ground black pepper
Balsamic vinegar (optional)
Directions:
Thinly slice the tomatoes an
d lightly season with salt and pepper. Set them on a paper towel to absorb any extra moisture.
Spread a dollop of ricotta on each piece of bread. Sprinkle with a tiny bit of salt and pepper. Drizzle a little of olive oil. Next place a slice of tomato on the bread and a basil leaf or two.  If you want, add a splash of Balsamic vinegar here. 
Serve immediately.
A side note: the bread can also be toasted in a 400 degree oven until lightly browned, this adds a nice texture to the bread.
Nicky D Cooks is the owner and operator of Nicky D Cooks Authentic Handcrafted Italian Biscotti and Pizzelle.
Follow her on Twitter @ https://twitter.com/nickydcooks
Her website can be found at http://www.nickydcooks.com.   
Also, check out her Facebook page @ http://www.facebook.com/nicky.d.cooks for more information and great recipes.