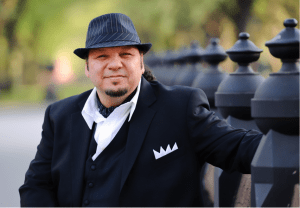 Michéal Castaldo is the living embodiment of authentic Italian culture for modern North Americans. A native of Calabria in the "tip of the toe" of Italy, Michéal is an accomplished pop-classical crossover singer of his native songs and a purveyor of his family-made, heirloom Italian luxury products in North America.
Michéal's music is a life-long passion. His businesses began as gifts for friends from his family's pursuits in Calabria. Today, in addition to performing his heart-warming Italian songs to adoring audiences, Michéal rents his refurbished childhood home (Villetta Mimma Vittoria) in the heart of Calabria and imports his family's high-quality true extra virgin olive oil, Aceto balsamic vinegar and Musica perfume fragrances, as well as the planning and staging of full-service, high-end Italian-themed events through his Tuscan Weddings and Events division.
He was gracious enough to give us some insight into his life, his Italian heritage as well as some of his favorite traditions.
CP: What do you find to be the most rewarding aspect of your career?
Michéal: Being able to touch the heart and soul of my fans and in some instances, lend a healing quality to their lives – making a difference! 
CP: Where are you from and where do you currently live?
Michéal: I'm a native of Calabria in the "tip of the toe" of Italy – raised in Toronto, Canada. Educated in Boston and currently reside in Chelsea neighborhood of Manhattan.
CP: Can you tell us about your Italia heritage?
Michéal: I immigrated from Reggio Calabria to a lively Italian community in Toronto, Canada in the 1960s. My father originally crafted wooden barrels (a "Cooper") for wine and balsamic and later became a general purpose carpenter.  My mother ran a grocery store/garden center. My relatives owned and operated olive groves – produced and sold organic, extra virgin olive oil.  At nine years old, a member of the church choir, I was chosen by the priest to sing a liturgical solo. After the mass, parishioners came up to the me and praised my voice. At that moment, it dawned on me that i would like to create music for the rest of my life…then thus the music bug bit me.
CP: What are some of your favorite Italian traditions and why?
Michéal: Many Italian traditions are tied to the Roman Catholic Church. I love all the holiday traditions of Christmas & Easter with all the family and friends gathering around the table eating, telling stories, playing cards, games and dancing the tarantella. Eating the various typical foods especially the ones imported direct from our region of Calabria such as 'Ndjua and the dense honey sweet Mostaccioli adds to the authenticity. I also love the traditions of making our own olive oil, family tomato sauce, wine, soppressata, jardiniera, fruit preserves and limoncello spirits. Our Italian wedding traditions of bringing a gift of money in an envelope to help the newlyweds get a head start is amazing, as well as our traditions of Italian funerals where family, friends and neighbors bring home cooked meals to the family of the deceased while they mourn is so caring and full of empathy.
CP: What does being Italian mean to you?
Michéal: Being Italian means being true to what you are. Inventive, Entrepreneurial, Philanthropic, Creative, Artistic and loving La Dolce Vita.  We're too passionate and emotional – never stuffy. We're very carefree, improvisational and like doing things at the spur of the moment … so if you want organization it's going to be a stretch for us. We're protective of our daughters, sisters and mothers, need i say more?
CP: What accomplishments in life are you most proud of?
Michéal: I've learned that life is precious and made up of many small moments. I'm at an exciting turning point, kind of like the elbow in the hockey stick – headed up.  The feedback from my music, plus the support and enthusiasm from friends and colleagues in the music community, has been more encouraging than ever before. My music has given me added confidence and energy to seize new opportunities and to take my art to the next level.  My biggest accomplishment as a performer:  Performing at Carnegie Hall, at Shea Stadium (now Citi field) and at a private party for celebrity chef Rachel Rae. As a Songwriter & Producer: working with 6 time Grammy award winner, Jose Feliciano. As a Producer & Remixer: for Billboard charting dance diva Martha Wash, and recording for famed trumpet player Chris Botti. As a session musician: singing a few National Spots for Herbal Essence Shampoo and Burlington Coat Factory. As an Artist:  charting at #1 on Reverbnation, #1 on Amazon.com, #1 on Gigmaster and #1 Indie artist on Classical Crossover UK. We just passed 400K views on Youtube. (see attached chart)
CP: What are some of your favorite hobbies?
Michéal: Hobbies?! Who has time for hobbies when you're trying to write hit songs, perform and survive? I call them passions… Olive Oil Connoisseur, Racing and Interior Design. (Read how I've turned a few of my hobbies into passionate revenue creating projects that add to my story by visiting my websites:  www.NewYorkCityOliveOilCoop.com www.TuscanWeddingsAnEvents.com www.LaDolceVitaFoundation.org and www.VillettaMimmaVittoria.com
CP: What are some key learnings you've experienced in your business? What would you do differently in your strategy moving forward
Michéal: Music has been an essential element for nearly my entire life – however I'm a late bloomer because it took me some time to understand and accept the core of my story. It took awhile for me to feel comfortable enough to share it with others. I respect music's incredible powers and reveal that respect with my voice. All of my experiences, good and bad, made me the musician and person I am today – professional, self-assured, considerate, sensitive, passionate and able to connect to my audience with attention and conviction.  Connecting with my listeners on a spiritual and emotional level will ensure that I will be doing this for a very long time. I've always admired artists who had a self assurance of their talent and handled their own business matters. I'm fiercely independent, so controlling your master recordings, publishing and brand is the most essential strategy.
CP: What advice would you like to share with other entrepreneurs and small business owners?
Michéal: Learn your craft. Spend the 10,000+ hours becoming an expert in your field. When fame comes and goes, at least you will be respected by your peers. If you're in a social business, be sociable. Get out there, network and develop relationships and strategic alliances. Treat your business like a business. I'm very fortunate that my wife Bozena handles the bulk of the domestic responsibilities, freeing me up to focus 100% on my businesses. So if you don't run and control your business, someone will be more than happy to run you out of business if you are a threat to them.
CP: What else would you like our readers to know about you?
Michéal: I take my hat off only when i go to my barber, when I'm in church and when I perform the national anthem. Before Hollywood distorted the image of Italian gentlemen wearing hats, there were famous composers, artists, directors, inventors, army generals and the aristocracy that wore them. I represent the later and I wear it proudly. The hat does not make the man. The mind, heart and soul does.