Ciao Pittsburgh recently had the pleasure of speaking with Pittsburgh's best makeup artist, Gina Pravlochak, 40, a third generation Italian who grew up in McKees Rocks. Most of her family is from Calabria and a little town in Italy called L'Aquila, east of Rome.
Gina's maternal grandparents opened a small Italian grocery store in McKees Rocks called Cersosimo's Market in 1929. In fact, Gina and her family lived above the grocery store and had a back door access right into the market's kitchen, where her Nana would feed most of the neighborhood.
"We would eat like queens and kings," jokes Gina. "We were always around many Italians and surrounded by great, Italian food all day long."
The market thrived up until the late 1980s—when due to her grandfather's illness and big name stores coming to town—was forced to close. To this day, Gina still makes her pap's famous dried hot sausage. It's become a tradition in her household to make it every year along with her five children, husband and her parents.
"Four of my children are teenagers and one is a 6 year old, but it's become a wonderful family tradition," she says. "We would all get together, grind the pork and add the ingredients. My children helps us case it. I grew up doing that in the store, but now we do this at home in my kitchen."

Gina, who currently resides in Robinson Township, tells us more about her favorite Italian traditions and her heritage as well as a sneak peek into her career as a professional makeup artist and what she enjoys most about living in Pittsburgh.
How did you become a professional make-up artist? After acquiring my beauty license in hair and makeup, I interviewed for a part-time position with Sak's Fifth Avenue in downtown Pittsburgh. I had a natural knack for it and was hired on the spot that day. A year later, MAC Cosmetics stopped into Sak's looking for makeup artists to head up different locations in the region. They hired me and I worked for them for 8 years. They trained me on many different levels from regular makeup—which I already knew from working at Sak's—body painting, body art, airbrushing, photo makeup, film makeup, and stage makeup. To this day, I continually train myself; I attend classes and even go to New York City for classes to keep up with the industry. One day, I received a call from a local producer who was looking for someone to handle stage makeup for a live music show that was coming into Pittsburgh. From that point on, every contact I made was through that one person. It was a snowball effect—she's a well-known producer in Pittsburgh. Every job I landed was through her.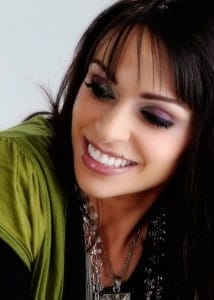 When President Barack Obama was in town, you were called upon to put makeup on him. What was that like? Were you nervous?  That same producer called me about the president and asked me to take care of his makeup. It was so fun to do the makeup for him. I wasn't nervous because I often do television interviews and makeup segments on air. He's a great guy and we had so much fun doing that.
You've done other celebrities as well, right? Yes, I later connected with another local producer who gave me more local work in Pittsburgh and with Pittsburgh celebrities. Another producer I work with handles musical acts from all over the world, such as Italian singers Patrizio Buanne, Chris Botti and other musicians. Patrizio was wonderful on a personal level and really stands out—he's a great guy and Pittsburghers love him. He's like the Frank Sinatra of Italy. I've also done makeup on Jillian Michaels and there are so many that I cannot remember.
What do you enjoy most about what you do? What I enjoyed the most is meeting different people. I love stories about anything to do with that person, like the little old ladies from Bloomfield who would tell me about their homemade ravioli or how their grandparents smuggled over olive oil because they didn't think they could get into the states. I just love meeting every day people. Celebrities are great and they also have interesting stories about their ancestors, traditions, and families. But the every day, average person are so much more real and relatable than someone who is driving a Lamborghini away from the set.
How long have you lived in Pittsburgh and what do you enjoy most about the city?  I lived here my whole life. Pittsburgh is like a little city inside of a larger city—I love that I'm just 15 minutes away from the Strip District where I go food shopping. I remember going down there with my grandparents to buy produce and supplies at the crack of dawn. I love that you can walk the river's edge along all of these different venues. I'm such an advocate of Pittsburgh—my friends tell me I'm like the queen mayor at times! Anytime we have a day off, my kids and I are in the city, whether we are bike riding along the trails or just walking. I also like the fact that we can go to different restaurants throughout the city and not even feel like you are in Pittsburgh. Best of all, I find that the city is so easy to navigate. I also love the renovation happening in Market Square. I like going there every season to see what's new.
Can you tell us about your Italian heritage?  We are very rich in tradition and so we often hear stories about my grandparents and great grandparents from when they came over to America. They brought all of this rich tradition that they wanted to continue on every holiday, such as the seven fish on Christmas Eve, and the cookies and breads, and even the sausage recipe. Every generation has worked hard to try to keep that going. I try to instill that in my kids that time changes and I'm not the same as my parents; my time is not the same as my grandparents; however, traditions have to stay the same no matter what. Now that my children are older, they are getting it—and I hear them saying that when they have kids they want to teach them these homemade recipes and have Christmas Eve and Sunday dinners.
We grew up playing bocce at picnics, sipping wine, and talking about stories our grandparents would tell as if you were there too. My grandmother is still alive. She was married at 16, and she was really young when she had kids. So for my children to still be hanging out with their great grandmother and hearing stories passed down straight from her is really cool.
Speaking of family, it is a great comfort to know that I can call any one of my parents, uncles, aunts, or cousins for anything at anytime and they are there. Family takes care of family. No matter what. No questions. No judgement. Just understanding and love. To grow up knowing this in your teen years and all through life's hardships is priceless and I feel so blessed.
What are some of your favorite Italian traditions and why?  I come from a long line of really good cooks. It's all about the ingredients and making it with such love; it's a powerful binding agent for you and your children. And the dinner table itself is a magical, healing place where you can talk about anything—there is no subject off limits, especially when you are sitting around Sunday dinner. Sunday dinner is just like the beginning of a great week. With both sets of grandparents being butchers, we would have these wonderful Sunday dinners with elaborate food and wine. Relatives would come over and eat, drink wine, listen to Frank Sinatra, and then eat again, take a break, and then eat some more. Sunday dinners were always fun growing up.
I love to be a hostess of big traditions like Christmas Eve which is my favorite Italian tradition. We do the feast of the seven fish and it's super elaborate in our household. We do a sit-down dinner with about 30 people. My Italian-by-marriage husband moves all of my furniture out of my dining room and living room to accommodate the seating area. We sit down and have countless bottles of wine and prep the house and tables like Jesus is coming over; and we have fish, and candles and prayers. We get together super early in the morning and cook at my mother's and then we bring it over to my place. I had the biggest kitchen and the most parking so that's how I ended up hosting it! Sometimes, it's too much to handle for the watered-down Italians in our family because we get together for birthdays and other events throughout the year. My husband, who is part Russian and Slovakian, always jokes that we seem to get together for any little thing! Funny, I know he, like all the other spouses married into this family, secretly love it. They all knew that by marrying any of us you get the whole family too!
What does being Italian mean to you? I like it to be my identity. I look like Italy according to my friends—with my dark hair, dark skin, and dark eyes. I'm also loud—I talk and laugh loud. I love to feed others and I love to eat too. I'm super passionate about everything, whether I am talking about my Italian heritage, a recipe, a restaurant that I love, my kids, the city of Pittsburgh—it's over the top passion. Being Italian just means the world to me. I'm very proud to be an Italian. In fact, I have seven cousins and we all have the boot of Italy tattooed somewhere on our bodies. We did it one year on the 4th of July after making a small pact to get something that binds us all together—although five of us are 100% Italian and the rest were part-Italian, being Italian is what binds us together. We are all bound together. We can talk and say anything to each other and know that family is family and we always stick together. So I thought we should get the boot tattooed somewhere on our bodies.
Do you have any particular favorite Italian restaurants (here in Pittsburgh or anywhere in the country)? I love Piccolo Forno in Bloomfield and Girasole in Shadyside—those are great places to eat. I love the pizza at Lombardi's in the Little Italy section of New York City. My girlfriends and I—there are about 11 of us, half of whom are Italian—like to go New York City once a year, and eat our way up and down the streets of Little Italy.
What accomplishments in life are you most proud of? I'm proud of where I am as a makeup artist; I think I am pretty successful and accomplished in my field. I also love being a mom as well. You look at things differently when your children are born. It's make you drive further to become a success and make a better place for them.
What are some of your favorite hobbies? Makeup is my hobby which is what makes me successful at it because I constantly want to keep up with new trends and try new things. Being that something is your hobby, you're always out there trying to find the next latest and greatest product. Cooking is another hobby. I like to find whatever is in my pantry and throwing it all into a pasta; I love getting ingredients in the Strip and making something new. I also like to talk to old-school Italians in the Strip District and learn what they are cooking. I try to ask about their stories and recipes.
Who do you think was the most influential person in your life? I would say my mom only because if she didn't or wasn't so pushy about these Italian traditions, I wouldn't think they were of great importance to push onto my kids. I look at some Italians around me and they question the seven fish tradition. If they don't teach you, how will you learn? I made a book a couple years ago and gave it to just my family—The Feast of Our Seven Fish and Why We Eat the Foods that We Do. I researched everything we eat and why we do these certain traditions, like oranges with paprikas with them. We have it out every Christmas Eve and even my grandmother couldn't remember why we have them. I learned through research that the oranges represent happiness and the red is the color of love and passion. I researched everything, made it into a book and I also added photos of my grandparents throughout the pages.
What else would you like our readers to know about you? People are surprised that I can take care of five kids, find time to walk the dog, find time to do my hair, have a successful business, and do work around the house. People are also surprised that I look like a real girly girl but I think nothing of re-grouting my kitchen floor, digging into my garden, cutting the grass, washing the car—manual labor doesn't scare me. I'm not afraid to try it and getting my hands dirty. If I have the drive to do something, I will Google it or call my dad or my uncle to get some guidance.
For more information on Gina's business, visit www.pghbeauty.com..