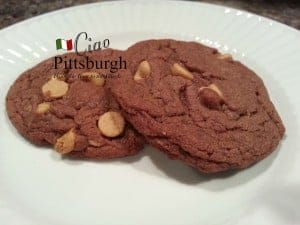 Ingredients
1-1/2 cup of flour
1/2 tsp. baking powder
1/2 tsp. baking soda
1/4 tsp. salt
1/2 cup of sugar
1/2 cup of Nutella
1 tsp. of honey
1/2 cup of softened butter
1 egg
1/2 cup of peanut butter chips
Preparation Instructions
Preheat the oven to 375 degrees.
Mix flour, baking powder, baking soda and salt in a container.
Next, mix the Nutella, sugar, butter and honey. Then add the egg. Mix everything together and then stir in the peanut butter chips.
Scoop onto a cookie sheet, being sure to space them evenly apart.  Bake for 10 minutes and then take it out to cool. Store in airtight container.
© Ciao Pittsburgh 2014 (www.CiaoPittsburgh.com)