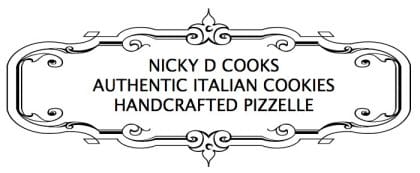 Nicky D Cooks Authentic Italian Cookies Handcrafted Pizzelle are now available in a variety of flavors at the Food Shoppe market in the Squirrel Hill section of the city of Pittsburgh.
Nicky D's Pizzelle are all 100% handmade from scratch and packaged by hand. Flavors include Vanilla Bean, Chocolate and Anise. Specialty pizzelle include white and chocolate drizzle.  Nicky D's pizzelle are perfect dessert for any occasion.
Nicky D Cooks is a female-owned wholesale business based in Pittsburgh. For wholesale and bulk orders only, please contact Nicky D at nickydcooks@verizon.net or at www.nickydcooks.com for details.