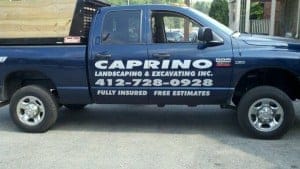 For Todd Caprino, 24, nothing beats having your own business and being your own boss. Born and raised in the North Hills suburb of Pittsburgh, Pa., Caprino started his own landscaping and excavating firm, Caprino Landscaping & Excavating, Inc., while he was still a teenager. No project is too big or too small for him to handle.
Besides enjoying being in business for himself, Caprino, who now resides in Ross Township, enjoys being outdoors and making his customers happy—some of the reasons why he got in the business in the first place.
"I always loved being outside since I was a little kid," he says. "I would be outside digging in my dad's garden and always loved working in the yard."
Caprino admits that he was never into his schoolwork and didn't want to attend college. Rather, he wanted to do something else with his life when he grew up.
"I had teachers tell me I would not amount to anything in life if I didn't do well in school and go to college," he says. "When I was 13 years old, I began cutting people's grass and doing their yard work everyday after school and on the weekends."
His business began to boom soon after. Caprino landed more and more customers so he took a chance and started his own business—and it has certainly paid off for him.
As a native Pittsburgher, Caprino loves everything about the city, from the spectacular views to the people to the food and, of course, the Steelers! Caprino's family hails from the region of Calabria in Italy. While Caprino has yet to visit Italy and the region where his from, he says that he has definite plans to visit someday.
Being Italian means a great deal to Caprino.
"It's hard to explain because there is so much pride in being Italian especially when it comes to your family," he says.
One of his absolute favorite Italian traditions include the holidays—spending time with family and enjoying some delicious home-cooked meals.
"There is nothing like the holidays when you're Italian!" he says.
In his spare time, Caprino enjoys fishing and loves spending time with his family and most especially with his beautiful fiancee, Heather.
Caprino hopes to continue to expand his business, but giving his warm and generous personality, it shouldn't be too difficult.
"I'm a people person and I love meeting new people," he says. "I treat all my customers like friends, and I always try helping anyone who needs it—that's just how i was raised."
For more information on Caprino Landscaping & Excavating, call 412.728.0928.