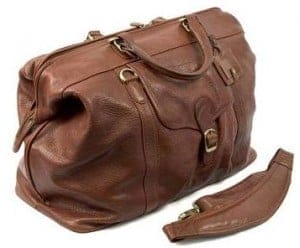 LeatherGiftItems.com specializes in professional, Italian leather briefcases; the Dr. Koffer line is now offered at 20% reduction and comes with a free luggage tag.
The Italian line Dr. Koffer, is now on special and the offering consists of briefcases, messenger bags, duffel bags, toiletry and wallets. The line is brought in direct from Italy, each bag is hand-made in either Italian cowhide, Italian deer or buffalo. Check out the Italian leather bags, be sure to study the different types of leather and colors offered.
This leather briefcase / laptop bag store has a large selection of lawyer briefcases, personal men's bags and ladies Italian leather briefcases. The store provides a varied selection of carriage styles for bags, i.e. under arm bags, cross-shoulder and carry-all styles, attachés and wheeled cases.
The on-line site offers a unique selection of stationery, for left handed users, such as Italian leather notepads and planners. There are a surprising variety of leather gifts in this store, toiletry gifts, watch boxes and even custom, hand-made fountain pens and roller ball ink pens.
Top brands of Italian leather messenger bags, duffel bags, backpacks and carry-on luggage are available, such as Dr. Koffer, Jack Georges, Korchmar, Le Donne Leather, Scully Leather, Tony Perotti, etc. Check out some of our product photos at our LeatherGiftItems Yahoo site.
This top-notch, on-line luggage store offers its customers free ground shipping, free monograms on selected products, and a free return label on items valued more than $100. Corporate orders are available by telephone, call for a quote.
This on-line luggage store offers something fabulous for anyone, in a popular brand, whether it's for back-to-school or special occasion purposes, backed by the store's 30-day return policy and five-year to lifetime manufacturer warranties. Here is a recent quote from a review on the company: "Thank You for the great communication and the very best customer service I have seen in a while. I will be ordering from you in the future. Thanks again. Signed J.P.".
Hurry to take advantage of the 20%-off sale and free luggage tags, while supplies last. Also, check out the LeatherGiftItems Facebook site, or company blog for product specials and company details, or refer directly to the site at LeatherGiftItems.com..