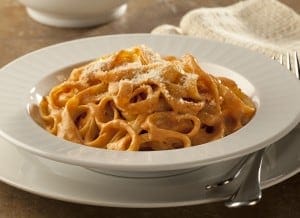 Lamagna Cheese Company, a family-owned Pennsylvania cheese producer, has been making quality cheese since 1928 when John Lamagna, proudly brought the family's cheese making skills from Italy to America. Now in its third generation, Lamagna Cheese is run by the four Lamagna brothers – Mike, Rudy, Kirk and Chris and new CEO John Sottile. The family's devotion and love of making wonderful cheese, combined with today's modern methods, makes Lamagna consistently delicious and right for the times. The brothers' attention to old world quality has guided their master cheese making. They have not compromised those family values and today continue to make their Lamagna Ricotta Cheese with only simple, all natural Ingredients.
Lamagna starts with the freshest Pennsylvania milk to make their Ricotta Cheese, following the old world methods their family brought with them from Italy. The family ensures that their All Milk, All Natural Ricotta Cheese is the freshest and produced daily without any reason to diminish flavor or texture with additives, preservatives or whey.
"Today's consumers are demanding simple, all natural foods and, if they are made with locally sourced ingredients, all the better," said Mike Lamagna. "We make an all-milk Ricotta because we truly care about the quality and taste we provide our customers," Mike Lamagna said. "Some of the national brands are whey-based Ricottas, which are grittier than and not as flavorful as our milk-based ricotta," he said.
"We are one of the few Ricotta makers that still make Ricotta with family pride. Holding on to our family values, and constantly improving and updating our quality control, has kept Lamagna Cheese in the forefront of Italian cheese making," says Rudy Lamagna. Lamagna never adds stabilizers like gums, starches or carrageenans to bind their water. Their facilities have also been Certified Organic for over 20 years and have an A rating to exceed GFSI (Global Food Safety Initiative).
Lamagna Cheese Company seals 85 years of quality cheese-making experience into every package consumers bring home to their families. Lamagna puts their name on the label because they guarantee that families will enjoy great tasting traditional Italian dishes, and new creations with great cheeses from Lamagna.
The Lamagna Family believes that ricotta cheese has been greatly underused and emphasize that it's a versatile ingredient. Ricotta can be incorporated into pasta sauces, rich desserts and even fruit salads. "It's no longer just for Lasagna," says Kirk Lamagna. "We know today's busy homemakers don't always have the time to purchase and prepare great tasting, wholesome meals with quality ingredients. But the combination of our all-natural ricotta cheese with a favorite red sauce will bring our customers that added rich, fresh and delicious taste they crave in a easy to make meal."
Lamagna Cheese has recently upgraded its Ricotta packaging and company website to better serve their customers. "The new Lamagna packaging and website upgrades reflects the many consumer benefits and product attributes that we want our loyal and new customers to see and understand, right in their hands," said John Sottile, Chief Executive Officer of Lamagna Cheese Company.  The website and package redesign is part of an all-encompassing plan to bring even more great products, healthy eating ideas, delicious recipes and responsible environmental stewardship to better serve the community. Additionally, the redesign updates the local Pennsylvania brand, while also being respectful of its classic equities and its customers. Constantly improving capabilities under the direction of family members has kept Lamagna Cheese in the forefront of Italian cheese making.
 "We've been waiting for the opportunity to tell our story right on our packaging for a while, and we are so thrilled to launch this upgrade from here in Pennsylvania to better serve our customers regionally," said Chris Lamagna. "Our goal is not only to provide delicious cheeses from the highest quality ingredients, but to engage our customers in a way that makes us a staple in their kitchen and homes for years to come. We've added a lot of our favorite recipes to the website and encourage our customers to share with us their own dishes and delicious new ways they use our cheeses."
The new website can be found at www.lamagnacheese.com and showcases the new brand look as well as the family's commitment to making quality cheese, its product line, recipes and sustainability efforts.
New Lamagna Fresh Mozzarella Cheese
For customers that love Lamagna's Ricotta Cheese, they'll love the latest Lamagna cheese. The company has recently announced the introduction of Lamagna Fresh Mozzarella Cheese. The Fresh Mozzarella Cheese has that classic creamy, delicious taste. The new cheese will be available in 8 oz. and 1 lb. packages.
Cheese under the Lamagna family brand is sold at retail and local eatery locations primarily along the East Coast. Lamagna Ricotta Cheese is also available in select groceries from Maine to Florida, and as far west as Illinois. Customers will find that the new packaging and website, which launched October 2012, embraces family traditions, natural ingredients, and warm memories, the core equities that the company and its followers associate with the Lamagna Cheese Brand.
The Lamagna Family learned the art of cheese making in Italy and proudly brought their skills to America in 1928. Three generations later, that same attention to old world quality guides master cheese making. It's this devotion and love of making wonderful cheese, combined with modern methods, that makes Lamagna consistently delicious. Our Cheeses start with the freshest Pennsylvania milk to create an All Natural All Milk cheese with no additives or preservatives.  For more information visit, www.lamagnacheese.com or call 412-828-6112..