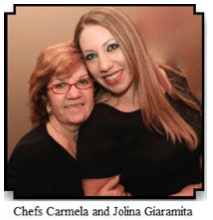 Italian Wedding Feast Premieres Saturday, March 8, 2014 at 10 a.m. on WQED-TV
On Saturday, March 8 at 10:00 a.m. on WQED-TV, QED COOKS with Chris Fennimore will bring the joy of the Italian Wedding Feast to its viewers. Carmela and Jolina Giaramita, chefs at Mount Washington's family owned and operated restaurant La Tavola Italiana, will join Chris in the cooking studio to prepare a variety of authentic dishes served at an Italian Wedding Feast.
According to Chris, "Italian food is known and loved for its sharp cheeses, aromatic spices, comforting pastas and a tradition of plenty 'Abundanza!'" He continues, "Since the family – "La Famiglia" – is central to Italian culture, the weddings feasts are extravagant and joyful. We wanted to share this kind of joyful event with all our viewers."
Members who pledge during the broadcast of QED COOKS Italian Wedding Feast will be able to join Chris, Carmela, and Jolina for a private event at La Tavola on Monday, June 9. The menu for the evening will include a variety of antipasti with bruschetti, olives, cheeses, salumi and other delicacies to whet the appetite. That will be followed by the traditional Wedding Soup with a rich chicken broth, tiny meatballs and greens. The pasta course will be a baked macaroni, "Machiaroni al Forno."
The main entree will be a combination chicken and veal rollatini in a rich sauce and potato crostate on the side. There will be dessert and a festive Cookie Table with dozens of different sweet delights. Jimmy Sapienza and Five Guys Named Moe will provide LIVE music to sing and dance to. Couples will have the opportunity to renew their marriage vows and dance along to the first song from their wedding. It will truly be a night to remember.
WQED changes lives by creating and sharing outstanding public media that educates, entertains, and inspires. It is the parent company of WQED-TV (PBS); WQED: The Neighborhood Channel; WQED: The Create Channel; WQED Showcase; Classical WQED-FM 89.3/Pittsburgh; Classical WQEJ-FM 89.7/Johnstown; the Pittsburgh Concert Channel at WQED-HD2 (89.3-2FM) and online at www.wqed.org/fm; local and national television and radio productions; WQED Interactive (www.wqed.org) and iQ: smartmedia, WQED's Educational initiative (www.wqed.org/edu).