My Italian Grandmother decided to bestow some advice to me when I entered adulthood.
The first tidbits came in the form of kitchen wisdom; when you are cooking always bless your food, cook in odd numbers and throw the salt over your shoulder for good luck in your kitchen. These were pretty much straight forward and easy enough to follow. I still do these to this very day.
The second piece of advice came before I met my future in- laws and their extended family. As I was getting ready for my trip out to Pittsburgh, my grandmother told me, "don't be nervous…..you will never be alone in a crowd if you find a couple of Italians (Italian Americans)…they will always make you feel welcomed"
The latter piece of advice was so heartfelt and sincere. I knew that she was a wise woman and would not steer me wrong.
I just had never thought that some twenty years later, I would hear my Grandmother's words echoed when I embarked on my professional career.
When I started out blogging and writing, I set out trying to preserve a piece of my family's culture and history.  Italian American peasant food is about a life style, a reflection of a group of people ( mostly immigrants) who endured hardships yet managed to feed themselves and their families with what they had available.
When you meet a fellow Italian American, you feel a connection or a bond with that person because you have similar backgrounds and shared stories. You have walked a mile in their shoes, you know where they are coming from.
Talking about food creates an instant connection to people. This is especially true in the Italian American community. If you gather a few of us together, inevitably the subject will always will come around to the subject of food.
So much of our lives is dictated by food- holidays, family gatherings and celebrations. I know other cultures do emphasize food, but I can only speak for my ever loving crazy Italian family. It was always about the food and the important role that it had in our lives.
One of the greatest things in writing about food is hearing from people that read my blogs. I love to hear the stories about how Italian American peasant food relates to their lives. So many times I have had people tell me that a recipe I wrote about has triggered a memory of a dish that they had grown up with, or that it reminds them of a dish that their grandmother used to make.
I find that food and recipes do connect people, and I am so happy to be the conduit to which make this happen.
The holidays are by far my favorite. I enjoy the cooking and baking chaos that goes with this holiday season. I also truly enjoy hearing what others are doing to prepare for this holiday.
I especially look forward Christmas Eve and La Vigilia or the Feast of the 7 Fishes.
The Feast of The 7 Seven Fishes is a truly spectacular event. People dusting off recipes and don their buffet pants. It is a meal that comes once a year, filled with much anticipation and festivities.
When I moved to Pittsburgh several year ago, I had found that there was one dish that was continually being made that for the Christmas Eve Feast, one that I had never heard of.
It was Italian Fried Cauliflower.
This dish was served as part of the dinner and it seemed that many Italian Americans in Pittsburgh were making it or eating it. I was very curious about this dish; it sounded absolutely delicious.
I finally had a chance to learn a lot about this dish from Chuck Johnston, a local Italian guy who grew up in Western Pa.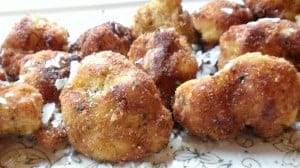 Chuck traces his Italian heritage to his mother's side.  Her family is from Abruzzi in a town called Pescocostanzo. On Christmas Eve, there were always fish dishes (a favorite of his is Tuna in Spaghetti Sauce) and always lots of Italian cookies and nuts rolls for dessert.  There was also Italian Fried Cauliflower
Chuck told me about his family and the tradition of eating the Italian Fried Cauliflower on Christmas Eve. He was kind enough not only to answer my questions, but shared his family's recipe for amazing dish.
Chuck no longer lives in Pittsburgh, but his roots still run deep here, especially when it comes to celebrating Christmas Eve. He told me that the Italian Fried Cauliflower was always a favorite part of the Christmas Eve Dinner, and he still makes it to this very day.
The cauliflower is really delicious and straightforward. Chuck says that if he could convince his mom, he would ask her to make it for other holidays as well. He explained that the key to a successful Italian Fried Cauliflower is that you need to steam it so it is cooked, but not cooked fully because you will be frying it again in the oil.
Once the cauliflower is steamed, you bread it and fry it. He also suggests that you have salt, pepper and grated cheese available for your guests for serving this dish.
Chuck has solution for any extra breadcrumbs that you might have leftover. According to him "if you have any breadcrumbs and bread left over….mix them together and fry it….  I know it's bad for you – kind of like hush puppies".
Thank you Chuck for sharing his family's recipe. I have tried this several times already and I will be making this on Christmas Eve this year.
I hope you enjoy it.
Buon Appetito,
Nicky
Chuck Johnston's Italian Fried Cauliflower
Seasonings are arbitrary.  That is, ultimately you will make it the way you like it.  This is the way we like it.  The great thing is, you'll have to make it more than once to see how you like it best! We love this!
Ingredients:
Cauliflower – one large head should make enough for eight or ten people (or depending on how greedy they are….haha!)

Flour

Eggs

Italian-seasoned breadcrumbs

Oil – we use a combination of Safflower and olive oil.

Onion salt

Black pepper

Parmesan Cheese
Cut the cauliflower into smallish pieces (not bite-sized) and steam for a very short time; maybe five minutes, but you don't want it too soft, because you will be frying it for ten minutes or so.
Mix salt and pepper into the flour (or you can add it to the breadcrumbs if you want) – not too much.  Add Parmesan cheese to the breadcrumbs (we use a good amount – you will probably have to experiment a little). 
Scramble the egg.
Get the oil hot, but don't keep the heat too high – you don't want the cauliflower to burn.
Dip it into the flour, then the egg, then the breadcrumbs.  Put it in the pan, and fry until golden brown.  When done, put it on a plate with paper towels to soak up any extra oil (you can keep it in a warm oven if you're not going to eat it right away).
Have plenty of salt, pepper and grated cheese for your guests to season their Italian Fried Cauliflower.
For more information about and great recipes check out http://www.nickydcooks.com. 
Follow me on Twitter @ https://twitter.com/nickydcooks 
Follow me on Instagram @ http://instagram.com/nickydcooks/
Facebook page @ http://www.facebook.com/nicky.d.cooks