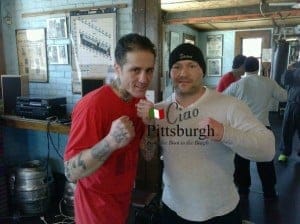 Pittsburgh native and former International Boxing Federation lightweight champion, Paul Spadafora, is anxious to get back in the ring again. He's looking to add a few more win totals and knockouts to his current record of 48-1-1 with 19 knockouts.
After an outstanding amateur career that saw him win 75 of his 80 fights, Spadafora turned professional in October 1995 with a fourth-round KO of Steve Maddux. By August 1999, he was fighting Israel 'Pito' Cardona for the vacant IBF belt. Spadafora won that fight in a 12-round decision, becoming world champion at age 23. Spadafora's rapid rise saw him go from The Bottoms of McKees Rocks, his adopted hard-knock neighborhood in Pittsburgh's West End, to the top of the boxing world. One year, he was fighting Jose Aponte for $1,200. The next, he was winning a $40,000 purse and a world title belt to become a celebrity in his hometown.
Spadafora defended his title with an 11-round knockout of Renato Cornett, but it was his fight against Victoriano Sosa that solidified Spadafora's status as champion. Knocked down twice in the third round, he rose from the canvas to win a 12-round decision.
After a 32-month layoff, Spadafora signed with eight-time world champion Roy Jones Jr. and TNT Promotions in 2012. Spadafora quickly started climbing the world rankings, scoring unanimous decisions over Humberto Toledo and Solomon Egberime before beating Rob Frankel in 10-round unanimous decision for the vacant NABF super lightweight title in April 2013. It was Spadafora's first belt in nearly a decade. He promises it won't be his last. 
Our founder, Jack, took some time to chat with Paul recently so we could learn more about him, his boxing career, his Italian heritage, his workout regime, and more.
Jack: Who is Paul Spadafora?
Paul: A regular guy who is down to earth and loves my three kids, Giana, Tua, and Geno, and my family.
Jack: As of today, what was your most memorable time in your career?
Paul: No question, when I got up off of the canvas and won the fight during my bout with Sosa. I proved to my family, my team, and most importantly myself, that I would die trying. When you're hurt like that, your character comes out. I was very proud of myself when I watch that fight because I was hurt so bad and that gave me the comeback of the decade on ESPN 2.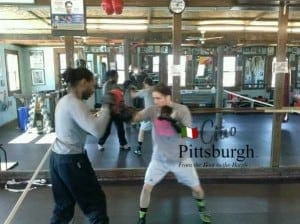 Jack: If you could fight in any ring/crowd in the world where would it be?
Paul: Madison Square Garden in New York City.
Jack: What do you like to do when you are not training? Hobbies?
Paul: I like to play basketball. I love to spend quality time with my two daughters and son. I also enjoy being around my dogs. Finally, it makes me feel great when I give back and help/train other fighters.
Jack: Do you have any advice or words of inspiration for aspiring boxers out there?
Paul: Keep your circle small. Make sure the people around you aren't there because of who you are or what they can do for you. Follow your dreams and work hard. It's not an easy sport. If it was that easy, everyone would be doing it. And absolutely stay away from drugs and alcohol.
Jack: We know you can't give out all your secrets, but briefly take us through a week of training, eating and sleeping. What is your workout regime like?
Paul: I run four days a week—different types of runs, slow and fast. I eat a balanced diet since I need to stay near my fight weight. But I don't really have to cut out the food that I love. I spar three days a week only when I'm six weeks out from a fight. I rest a lot before and after training. I am 38 years old, so my body needs more rest than when i was younger.
Jack: Name five of your all-time favorite fighters.
Paul: Not in any particular order: Tommy Hearns, Roberto Duran, Salvador Sanchez, and Pernel Whitaker.
Jack: What do you do better now than you did before in your career?
Paul: I know when to push it in training and when to lay off. Before, I was all out. Everyday, I overdid it many times. As I mentioned previously, I stay close to my fight weight so I don't have to cut a lot of weight before my fights.
Jack: What does Italian mean to you?
Paul: It means to be strong and proud of your heritage. I'm proud to be Italian.
Jack: What is your favorite Italian meal?
Paul: I am kind of simple—I really like pasta and meatballs. I love tripe.
Jack: Do you keep up with any Italian traditions?
Paul: Since my career is demanding, I do not have time to make homemade Italian foods. I will tell you food is big for me. I love to eat all types of Italian foods/treats, to name a few, sopressata, cannoli, and once in a while, a glass of wine with my meal.
Jack: I know fighters don't look past their next opponents, but what are your future goals in the ring?
Paul: I am looking forward to fight in another major fight—a fight where the public and boxing people will have to consider me one of the best fighters of my time.