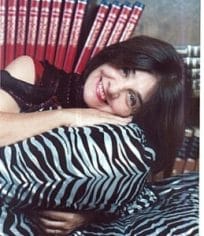 Originally from Northern Italy—Veneto to be precise—author Maria Grazia Swan came to the United States as an adult. She lived in other European countries as a child, so the only thing that had her concerned was the ocean in between. Oh, and here's a secret she shared —she doesn't know how to swim! 
Today, Maria has two grown sons and grandsons, who bring much joy to her life. In addition to the joy, the grandkids are her technicians. They help her with the computer and in return, she feeds them Italian food. Oh, in addition to being an international best seller, Maria is also a real estate agent in sunny Arizona.
She took some time a few weeks ago to respond to some of our questions so we can learn more about her heritage, favorite traditions, and her greatest accomplishments. 
CP: What do you find to be the most rewarding aspect of your career?
Maria: I'd rather sit and create imaginary lives for my fictional characters than eat chocolate mousse. Any woman reading this will understand what I mean.
CP: Where are you from and where do you currently live?
Maria: From Valdagno, province of Vicenza, about 45 minutes drive (autostrada) from Marco Polo airport in Venice. I live in Phoenix ,Arizona but a piece of my heart is in Italy and another piece in Southern California where most of my stories take place. I have a big heart.
CP: Can you tell us about your Italian heritage?
Maria: Well, since my mother and father are distant cousins, it's like one big family— Not really—My paternal grandfather comes from the province of Venezia while from my mother's side they are all from Vicenza. Writing about the difference sounds silly, but we are very campinalistici where I come from. Fortunately we all speak the same dialect and as a kid I was lucky enough to meet relatives from both provinces. We stay in touch through Facebook and often the relatives are my go-to when I need information for my books.  
CP: What are some of your favorite Italian traditions and why?
Maria: I can't call them Italian Traditions as I relate to local traditions. For example my town's open market on Friday morning is such an important part of my Italian life. I built a whole chapter of Italian Summer based on that experience. I still go to the market when I go back home and every Thursday evening, from my bed I watch the merchants set up their booths in the piazza, so grateful for webcams. And the strange and obsessive relationship Italians have with their dead. First thing I do when I go back home is visit the cemetery. 
CP: What does being Italian mean to you?
Maria: I can't no more explain that than I can explain happiness. It's something that you feel, live, experience, but can't explain. Let me quote http://italophilebookreviews.blogspot because this reviewer really nailed it: "You can take the woman out of Italy, but you can't take Italy out of the woman!" This is part of her review of Murder Under The Italian Moon, my new series and of course the main character is an Italian woman.
CP: What accomplishments in life are you most proud of?
Maria: My kids, grandkids, my circle of friends, and the fact that I'm able to bring joy to other people through my writing. (Yes, I have letters to prove it.)
CP: What are some of your favorite hobbies?
Maria: Yoga, hiking, sewing (I used to be a dress designer in one of my past lives) smelling the roses from my garden and planning my next Italian escapade.
CP: What are some key learnings you've experienced in your career as an author? What would you do differently in your strategy moving forward?
Maria: I would have gone Indie years ago instead of publishing through traditional channels like I did with my first two books. And I wish I could be more comfortable with self promotion, unfortunately my grandmother taught me to be modest and humble…so…I feel guilty talking about myself. And that's Italian. 
CP: What advice would you like to share with other aspiring entrepreneurs and small business owners?
Maria: Do your homework, while we all have high hopes and dreams, sometimes it's hard to hang on. But hang on you MUST. Never surrender because you never know when lightning will strike. And for any aspiring author I would be happy to answer any question, don't hesitate to contact me.
CP: What else would you like our readers to know about you?
Maria: I have been writing since I was a child. My dream was to be able to hand one of my published books to my grandfather since he was my greatest mentor. By the time my first book was published, my grandparents had died. My mother didn't understand English. Neither does the rest of my family in Italy. Every time I sell Italian rights something goes wrong. But hey, I will never surrender, some days Mina's adventures will be available in Italian. Just waiting for lightning to strike.