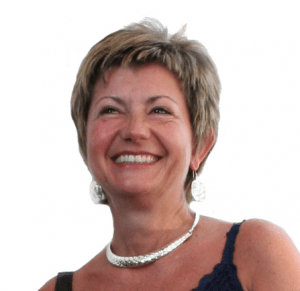 Helping Other Italian-Americans Learn the English Language 
Ciao Pittsburgh continues its series on profiling Italian-Americans across the country. This week, we are featuring Duvall, WA, resident, Marcella Nardi, who teaches basic English to other Italians, Italian to local people as well as computer technology and arts and crafts.  She was born close to Venice and lived in Milan until June 2008, when she moved to the United States. Her husband is from South Dakota. Her mother and sister still live in Italy. In 1986, she earned a Master's Degree in Computer Science.
Marcella took some time to tell us a little more about what she does for a living, her Italian heritage, some of her favorite hobbies and her favorite Italian traditions.
CP: What do you find to be the most rewarding aspect of your career?
Marcella: Love for what I do and how I do it is very important for me. When I see my students happy about our lessons, this means a lot to me. Related to the language training, I really like to teach my language and I like to help Italians who arrive here and need to start learning English. I also studied Latin for many years in Italy, so when I teach both languages, I love to make comparisons between the two languages and some common origins. The most rewarding? The friendship that started with most of my students.

CP: Where are you from and where do you currently live?
Marcella: I'm from the very nice medieval village of Castelfranco Veneto, not far from Venice. My father was from Vicenza and my mother is from Taranto, Apulia region. Currently I live in Washington State, precisely in Duvall, very close to Seattle.
CP: Can you tell us about your Italian heritage?
Marcella: I moved to the U.S. a few years ago, and once a year, I go back in Italy. I love the U.S. but I will remain Italian in my heart and mind. I love the feeling of history which is one of the most important Italian heritages to me. I still get dressed in a different way. You can see that I am Italian just by looking at me, even when I go grocery shopping. It is my Italian way!
CP: What are some of your favorite Italian traditions and why?
Marcella: It is not only just about the food, but the way I get dressed, how I consider friendship, my love of Italian history, and traveling all around the world—like Christopher Columbus who was Italian!
CP: What does being Italian mean to you? 
Marcella: For me, it's about our history and the reason why some aspects of my country are so different to the United States. Moreover in Italy, we love a nice style in many aspects of everyday life! Food is one of these aspects.
CP: What accomplishments in life are you most proud of?
Marcella: I am proud of most of things I did. I worked in the computer field for 22 years. I was happy for that and for what I learned. I'm happy for all the art and crafts things I am able to do. This is because I am independent in many aspects of my life and because I like to create with my hands. I also like to write thrillers and I got first, second or third places in many contests in Italy. I am proud of this too. To write is a way to let my soul speak to the people. Most of what I write is Italian Medieval thrillers. Also, I like to give presentation about Italian History at Dante Alighieri Society in Seattle—I am really proud of this as well.
CP: What are some of your favorite hobbies?
Marcella: I have many hobbies: writing thrillers, photography, traveling all around the world, and gardening. I enjoy doing home décor projects and building many kinds of environments to a small scale. I build medieval castles and villages to small scales.
CP: What are some key learnings you've experienced in your business? What would you do differently in your strategy moving forward?
Marcella: Most of my business here in the U.S. is teaching Italian and Basic English, teaching Art & Crafts, and doing customized Home Décor works for my customers. I learned that it is important to listen to the person you have in front of you, his/her needs and to readjust your way of working with her/him according her/his needs. Also, it is important to have a smile on your mouth. Always to be nice and friendly with people!
CP: What advice would you like to share with other entrepreneurs and small business owners?
Marcella: To understand what you really want to do more than money. This is the first suggestion. We live once and we have to live in the best way we can. Then I suggest trusting in yourself and don't give up if you see problems. At least try some other times.
CP: What else would you like our readers to know about you?
Marcella: I really love to write and I try to do it with all my heart. Then when I teach Italian or English, I really love to make people feel good during my lessons. I also offer lessons online. We use Skype and web cams. It is so easy and offers a lot of flexibility. At the end I would like to tell my readers that I really love our planet. To travel is one of the most important experience a human being can do.
To learn more about Marcella, visit her website at http://marcellanardi.com/ (website written in Italian) and www.4everItaly.com (written in both languages, English and Italian).