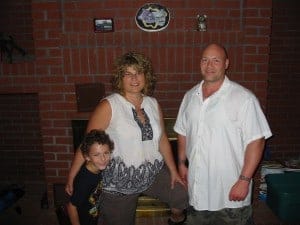 (This article was initially posted in October 2012)
By Jack De Leonibus
I hope you've been enjoying the types of recipes we have been featuring on Ciao Pittsburgh. In addition to sharing recipes, we have also sat down with several family friends of ours to learn more about their traditions and to get a firsthand account of how to actually make their favorite Italian food.
One particular recipe we want to share with you is from my good friend, Albertina (Tina) Cox. This recipe was been handed down from Tina's mom (Alietta Berardi) and has been in her family for over 100 years. Personally, my family and I have been using this recipe for about two years now. Since my son Nevio had an interest, I took him along with me to help make  Tina's family cheese ravioli. We ended up cooking these ravioli's during my mom's birthday celebration a couple weeks ago (see the photos below). Sunday dinners are back!!!!!!!!!
We here at Ciao Pittsburgh would love it if our readers would like to be featured as well. Send us your favorite family recipes (as long as it's not top-secret, of course!) and email me at jack@ciaopittsburgh.com to be profiled in an upcoming article.
As always, please feel free to SHARE this story with your friends and family, LIKE this on Facebook, and most importantly, tell us what you think!
Tina comes from the same hometown as my family in the Abruzzo region of Italy. Her family shared many of the same traditions as my family, and also had the same pride, passions, and enjoyment of our heritage. We soon bonded pretty quickly after many conversations about food. As some of you know, food is one of my favorite topics and eating is one of my favorite things to do. I had mentioned to Tina that it would be nice to start a little tradition of our own. So, we came up with the idea of getting together twice a year to make cheese ravioli.
During our recent visit to Tina's to make ravioli, I sat down with her to discuss her family and traditions. Before we began, we all enjoyed some homemade vino and delicious steak hoagies with onions and roasted red peppers soaked in oil and garlic. And we were able to squeeze in a delicious cup of espresso to top it all off.
Below is a transcript of our conversation together:
How long have you been using this recipe? We have been using this recipe for a few years.
What do you like best about it? It is easy and anyone can make it. It also tastes great!
How often do you make cheese raviolis? There is no specific timeframe for us, however, we do try to make it once in the spring and again in the fall, depending on our schedules.
Is this recipe passed down from generations? If so, how long has it been in the family?  Yes, it has been passed down. My mom has been using it for about 50 years and it has been in our family for over 100 years!
Most often, recipes come in different variations. You can tweak it here and there, and create your own personal touch. What makes your recipe a little more unique from others? It's just a great tasting recipe. As they say, less is more. This recipe is simple but it has a great flavor which makes these ravioli's taste so good. The sauce (gravy) must also be great—you do all of this work, so the sauce better be good! No Ragu here.
Are there any different ingredients someone might be able to substitute? Nutmeg. You can also add spinach and crab—pretty much anything you want.
How much of you make every time to decide to make ravioli? This recipe makes about 13 dozen. We normally double it, so both sides of the families can get 13 dozen each.
What's your best advice for people who are making this recipe for the first time? Patience! Like all homemade products, it is time-consuming. If you get together with another family or two, it's more fun than work. If you like the dough thin, like we do, you have to run it through the machine more times, so it takes a little longer.
Who in your life has been most influential in terms of baking or cooking? My grandparents, parents, and in-laws.
What ingredients do you need and what cooking tools are required? Flour, salt, pepper, eggs, ricotta, olive oil, fresh parsley, grated cheese, and a ravioli cutter. You can use the tools in the photos below. If you take a look, you can see the difference from using the ravioli tray and the hand cutter from using a cup. It really doesn't matter how you cut it as long as the top and bottom dough sticks together.
Name a few other recipes that you enjoy making. I like to make eggplant parmesan, lemon chicken, Fettucini Alfredo, and gnocchi.
Below is the recipe of Tina's mom's world-famous cheese ravioli that she wants to share with the Ciao Pittsburgh famiglia.
Cheese Filling Ingredients:
5 lbs. Ricotta (Frigo)
1/2 cup fresh parsley
2 cups of Pecorino Romano
1 teaspoon salt
2 teaspoons of pepper
Five jumbo eggs (One jumbo egg per 1 lb of Ricotta)
Dough Ingredients 
8 cups of flour
8 jumbo eggs (One jumbo egg to every cup of flour.)
1-1/2 cups of water on hand in case the dough starts to become dry
2 tablespoons of olive oil
Mix the eggs. Once the eggs are mixed, gradually add the flour little by little. Once this is all mixed, start kneading the dough. Once you are finished, cover the dough with a bowl or towel for 5-10 minutes. Start cutting the dough into small pieces and flatten it with a rolling pin so it will fit into the machine. Each time, the dough goes into the machine, turn it down a notch. Every time the knob gets turned, it pushes the rollers closer.