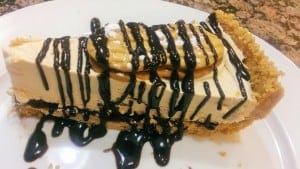 A tribute to my husband on Father's Day
"I'm not getting any younger, I would like to see you getting married before I die…….."
These very words were uttered to me by my grandmother on my 27th birthday. She said some other things as well, but I honestly can't remember what they were.  It was this sentence that stuck in my mind.
Italian woman generally don't mince words and this was clearly the case here.
My grandmother was slightly concerned about her eldest granddaughter. In her eyes, she had something to worry about. I was getting older, I wasn't married and I was in this thing called "Graduate School".
She asked me, "but you just finished college, why are you going back for more….aren't you going to get married soon like your older brother".
Oh there it was, the one statement that my grandmother was holding over my head. It was brought down upon me like gavel on judgment day. My grandmother didn't even flinch when she made this statement, she just looked at me and smiled.
When I tell you that Italian Grandmothers are tough- I really mean it.  This was my grandmother's version pep talk, her way of telling me that she loved me and wanted to see me happy.
I wasn't married yet, I wasn't even dating. However, my older brother was already married, bought a house and was expecting his first child.
For me and my nonexistent dating/marital status, it was the social equivalent in the Italian American world of being the last child to be picked for the game of red rover, and no one wanted to be viewed like that.
I was like those the last few eggs in the carton that were left over and that was getting close to the expiration date.
Trust me if I had gotten a cat, that would have pushed the family over the edge. I'm thankful for my allergies here. If not, I would been known as the unmarried and living with a cat girl. And that carried a stigma in the family- trust me on this one.
The term old maid hadn't been uttered, but it was an only matter of time before that moniker was introduced into the family's lexicon.
Let me put this in context so the gravity of the situation is apparent. I grew up in a very strict Italian Catholic family with an overly protective older brother.
My dating pool was so slim, I had a better chance of finding Big Foot than I did finding a potential mate in this area.
Most the guys I knew also knew my big brother and there was no way they would date me, nor I them. It was an unspoken rule and it wasn't up for negotiation.
So even if I was interested in a guy and he came to speak to me, my brother and his friends would do a complete and thorough background check on this chap.
Trust me when I tell you that they did a better job than any undercover detective could do. My brother would just simply tell me "I don't want you talking to that guy" and that was the end of that story.
So between living with my parents (because I was putting myself through graduate school), my brother's influences on my potential dates and the fact that I was a nerdy Italian bohemian girl, living amongst big hair, bedazzled velvet lounge suits wearers, you could say that my dating life was kind of stagnant.  Ok it was nonexistent.
But all was not lost…
…because in the summer of 1996, my life changed forever. Life threw me an unexpected curve ball and I believe that all of my grandmother's prayers had finally been answered.
Unbeknownst to me, my path would cross with a man that would later become my husband.
I had just transferred to a new full time job. I started working as a research assistant in one of the local (Rhode Island) hospitals.  Because I was the new lackey, I had to do things that no one else wanted to do which meant getting the mail.
Being the friendly outgoing golden retriever type of person that I am, I quickly began to introduce myself to the people in this small office. It was at these mailboxes that I eventually met Bill (aka the husband).
I noticed this handsome, academic looking type man at the mailboxes standing next to me. I quickly turned and introduced myself to him.
Now if you think it was like one of those Disney made for TV moments, you couldn't be more wrong. I caught the poor guy off guard, kind of like a deer in a headlights. He smiled at me, introduced himself and just quickly walked away.
I knew that dealing with PhD's would be a different experience. Yes, that is what my husband is. Bill is a clinical psychologist.  I tell people to think of him in terms of Sheldon from the Big Band Theory TV show, except with slightly better social skills and a beard.
Bill and I began casually chatting when we would run into each other in the office. Thankfully I hadn't actually scared him off that first day we met. 
He was quiet and reserved, yet charming, witty and funny. Eventually we went out on a date, which lead to a second and then a few more.
Being the good Italian girl that I am, I did bring him home to meet the family. To be honest, he was really the first guy that I brought home that my parents really liked, and more importantly the only guy that my brother didn't want to make disappear.
Within 2 hours of me bringing Bill home, he met my whole entire family. Yes a typical Italian encounter for sure, but I suppose to an outsider it would have scared most people off.
My brother told me afterwards" Nic he must really like you…he's a brave man… most guys would have taken off running meeting after meeting the whole family after only dating a few weeks…I know I would  have"! We both laughed at this.
I suppose meeting an onslaught of fun loving boisterous Italians in one setting could be a little intimidating. To me that is just how my family is, it's normative.
When my grandmother met him, she instantly adored him. She fed him and made him a "good cup of coffee", her affable description for coffee that she made for guests.
He loved her coffee and took home leftovers of her cooking. From that point on, he could do no wrong in her eyes.
My grandmother pulled me aside later on that day and said to me "try not to do anything to scare this boy off, he's a nice one".  Ah more pearls of wisdom and another one of her famous pep talks.
My family just took Bill in, it was if he always belonged with us. It was soon after we began dating that we became engaged and then eventually married.
My grandmother was able to see me walk down the aisle and she no longer had to worry about the "getting married" issue. She had something else to focus one soon after this goal was reached- great grandchildren.
Yes, she told me a month after I was married that "I'm going to die soon I would like to see some great grandchildren (from me)…… Bill will make a great father because he puts up with you".
I wish that I could say that these words were a fabrication of the truth, but that would be a lie.
No truer words have ever been spoken and my grandmother nailed this one. It was not long after we were married that our children were born and my grandmother's theory would be put to the test.
I like to say that my grandmother was a wise lady. She knew upon meeting Bill that he would do an amazing job of taking care of her granddaughter and great grandchildren.
Bill is a pretty wonderful guy and I'm happy to say that I completely agree with my grandmother on this issue- he really is an awesome dad and husband.
He's a compliment to this hot Italian mess.  He is mellow, and I'm fiery. He's an introvert and I'm a very much an extravert. I tell people I'm like the balloon and he is the string, he keeps me grounded. He has a tough job- trust me. I keep this poor man on his toes and I do believe that I have given him a grey hair or two.
I'm thankful that he is there for all of us. He puts up with house full crazy Italians and all of our idiosyncrasies, so clearly he is a candidate for sainthood.
In honor of Father's day I wanted to share a special dessert recipe that I make for Bill every year. It is a recipe for a frozen peanut butter pie. 
It isn't an ordinary pie, the crust is made from the Nutter Butter (peanut butter) cookies. The filling is a combination of cream cheese, peanut butter and powdered sugar. Now imagine this with a drizzle of chocolate sauce. It is a perfect pairing of sweet and salty; peanut butter and chocolate.
This is a family favorite and is a great frozen dessert to serve during the warm weather months. It is a perfect sweet treat to share with your family and friends.
I hope that you enjoy this dish.
Buon Appetito,
Nicky
NUTTER BUTTER Frozen Peanut Butter Pie from Kraft Recipes
Ingredients:
24 NUTTER BUTTER Peanut Butter Sandwich Cookies, crushed

5 Tbsp. butter, melted

1 pkg. (8 oz.) PHILADELPHIA Cream Cheese, softened

1 cup creamy peanut butter

3/4 cup sugar

1 Tbsp. vanilla

1 tub (8 oz.) COOL WHIP Whipped Topping, thawed, divided
Instructions:
MIX cookie crumbs and butter. Press onto bottom and up side of 9-inch pie plate (Crush the cookies in a re-sealable plastic bag using a rolling pin or use a food processor).

BEAT cream cheese, peanut butter, sugar and vanilla with mixer until blended. Stir in 1-1/2 cups COOL WHIP; spoon into crust.

FREEZE 4 hours or until firm. Remove from freezer 30 min. before serving. Let stand at room temperature to soften slightly. Top with remaining COOL WHIP.

Garnish-I like to top each piece with some chocolate sauce and powdered sugar
Nicky D Cooks is Owner of Authentic Italian Cookies Biscotti and Pizzelle.
For more information and great recipes, check out http://www.nickydcooks.com.
Follow me on Twitter @ https://twitter.com/nickydcooks.
Follow me on Instagram @ https://instagram.com/nickydcooks/
Facebook page @ http://www.facebook.com/nicky.d.cooks