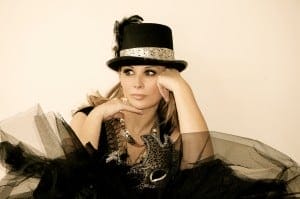 By Nicky D Cooks
On Sunday, April 27, Giada Valenti will be back in Pittsburgh for her new show, From Venice With Love.  Giada is preforming again at the Cabaret at Theatre Square in Downtown.
The Venice born, international singer and songwriter will be performing on stage with her band. The show is described as "being taken on a romantic journey with the singer as she performs her renditions of American and Italian hits from the 60s, 70s, 80s" as well as many recent contemporary songs.
Giada's warm and brilliant vocals, combined with the soft harmonious sounds from her band, make for a show that will make you want to fall in love again with love.
As a person who has been to a Giada Valenti performance, I can attest that it is a concert that you will never forget. The intimate setting for the venue is a perfect one for allowing her gregarious personality shine through.  Giada is able to interact with her audience, and make a real connection with them.
Giada has a way of creating a very unique and special relationship with her audience. She describes her fans as "my angels" and has a very devoted following. Giada makes her audience feel as though they are part of her family, and she is singing only for them. The passion that she has for her fans is evident in her performance. Her genuineness is sincere and it comes through when she sings; it is simply amazing to see.
(Article continued after the photo below:)
Giada has been busy since her last visit to Pittsburgh. I was able to catch up with Giada to hear what new adventures have been happening to this international star.
She had a new CD released last month in the U.S., entitled "My Lullaby," a collection of songs that she wrote herself. The songs were recorded in the Netherlands and Belgium, and mixed and mastered at the legendary Abbey Road Studio in London. The CD was released a few years ago in Europe where it did very well. Due to the many requests from her fans in America, she decided to also release it here. Giada says the CD has been well received and the "response of the media has [been] incredible." She owes her success on this CD to her fans.  She told me that "some of them even flew from over the ocean to be at some of my concerts in America, and some travel far to be there… from all over the USA…that is so special to me… I adore them."
Giada has been featured on many of the national television stations including NBC, ABC, CBS and PBS. This year she was featured on ABC's coverage of the prestigious Columbus Day Parade in New York City. She represented Italy on the Red Carpet of the parade and according to Giada, "it was an honor" to do this. It was her 8th year being part of this celebration. Giada sang a song from the legendary composer Henry Mancini titled "Meglio Stasera," a song from the movie "The Pink Panther".
Please check out this link to watch this great performance: http://www.youtube.com/watch?v=U-ZbRx9i20M
Aside from an already busy work schedule this past year, Giada also had time to help support numerous causes. She and her band play many benefit concerts throughout the year. Recently she was in New York doing a concert in support of the Children's Home of Poughkeepsie. According to Giada, it was "a very special cause and an incredible successful night…the [Children's]Home of Poughkeepsie is doing such an incredible job providing a safe and nurturing environment to at-risk children and families in the Hudson Valley."
Giada is also involved with the project Operation Wellness Warriors, a division of David Lynch Foundation.  The organization supports Veterans and First Responders. This one is special for Giada, because "being the daughter of an Italian police officer back in Venice, I have such a deep and sincere respect for people in the public service and I'm so honored to be part of this". Giada stated that there will be "many events planned" through this organization and the first one will be May 1st in Staten Island NY.
As always, Giada was also kind enough to share with us one of her recipes, RISI E BISI. This is a regional Venetian dish and is one of her personal favorite. Giada likes to cook this dish because it is simple to prepare. This recipe is light and is a perfect dish the spring.  A big thank you to Giada for sharing this recipe…Grazie Giada!
I hope you enjoy it.
Buon Appetito,
Nicky
Please be sure to check out Giada Valenti in Pittsburgh: http://trustarts.culturaldistrict.org/production/35216/giada-valenti
From Venice With Love, featuring Giada Valenti
Sunday, April 27 at 7:30PM
Cabaret at Theatre Square
655 Penn Avenue, Pittsburgh, PA 15222
For more info, videos and music samples please visit Giada's websites here below:
www.giadavalenti.com
www.facebook.com/giadavalenti
www.twitter.com/giadavalenti
RISI E BISI by Giada Valenti
Ingredients for 4 People
2.2 lbs of fresh peas
7 oz of rice Vialone or Arborio (1 and half little espresso cups per person as my grandmother say!!)
2.0 oz of butter
1.5 oz of bacon
1.5 oz of parsley
Extra virgin olive oil
67.5 fl oz of chicken broth
Grated parmesan cheese
1 spring onion
Salt and pepper
PREPARATION "RISI E BISI"
Shelled peas and wash them well. Peel, wash and chop the parsley. Heat the chicken broth. Prepare the sauce: Put the chopped bacon in a pan, half the butter, two tablespoons of olive oil, chopped parsley and spring onion sliced.
Fry for a few minutes, then add the peas and let simmer, wetting them with a few tablespoons of broth.
Pour the hot broth into the bowl, and when it will resume boil, add the rice and let it cook, stirring often.
Five minutes before removing the rice from the heat, taste and season with salt and pepper, add the remaining butter and three tablespoons of grated Parmesan cheese and stir well.