By Nicky D Cooks
I get asked all the time about what foods I like to eat and to cook. Most people are surprised that for the most part, I enjoy simple Italian dishes.  The peasant foods that I grew up with are the ones that I go back to most often.
I do put my own spin on the dishes that I make; I think every cook does that. I still stick as close to the original recipe as I can, without changing it too much.
The peasant staples that I ate growing up are just that—simple peasant dishes.  They were uncomplicated, yet they had the most delicious flavors to them.
One of the dishes that we ate quite frequently was frittata. My mom could throw a few ingredients together and make the most wonderful frittata. My favorite kind that she would make was onion, potato and pepperoni.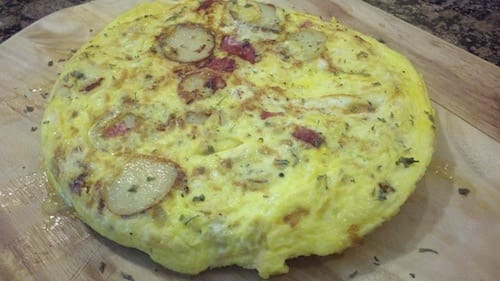 Frittata is a kind of like an Italian open faced omelet.  It can be made on the stove top or baked in the oven. Like an omelet, the frittata has an endless combination of ingredients that make this the prefect comfort food. A frittata can be a simple as potato and egg or more elaborate combination of ingredients like Italian Asiago and Fontina cheese with wild mushrooms, sundried tomatoes and asparagus.
The combinations are only limited by your imagination. It is a great way to get creative in the kitchen because frittatas are a very forgiving dish. They are easy to make and can suit a variety of tastes.
My mother was the queen of making frittatas. Ma would make her on the stove top. She was always able to make the best frittatas ever. Her frittatas were golden brown with a light crispy crust from the cooking in the skillet. They were thick and hearty and just so delicious. Ma would always serve the frittatas with a slice or two of good Italian Bread; you always had to have good Italian Bread with this dinner.
A warm frittata, topped with some grated Italian cheese that had begun to melt from the heat of the pan and slice of good Italian Bread, to me it was the perfect meal.
For years I struggled to make a frittata like my mother. I never had the right pan to cook it. I resorted to baking my frittatas in the oven. They were good, but they were not like Ma's.  I liked the way they came out, but I did not love it.
Last year my husband bought me a set of frittata pans as a Christmas present. Perhaps he was trying to tell me something. He was a big fan of my mother frittatas, he really like them. When we were dating, Ma would always send him home with leftovers. Nothing gave him greater joy than eating a cold frittata sandwich for lunch the next day.
I must admit that I love my frittata pans. It is a set of interlocking non-stick frying pans, so it is perfect for flipping frittatas on the stove. Now I am able to get the great crust on my frittatas that I like.
Frittatas are my go to meals when I am not sure what do make, or if I want to make something in a hurry.  Frittatas are the all around perfect meal. You can eat frittatas for breakfast, lunch as well as dinner. To me, frittata and good Italian bread, it is still the perfect comfort food.
I have included my recipe for my simple stove top frittata. This is a basic recipe, but you can always add to you. I always like to throw in any extra cheese or some Italian cold cuts if I have them in my refrigerator.
I hope that you enjoy it.
Mangia Bene,
Nicky
Nicky D Cooks Simple Frittata
Ingredients:
2-3 tablespoons extra virgin olive oil
2 medium potatoes (red bliss), peeled and sliced 1/4 inch thick
6-7 eggs beaten with a few tablespoons of water
1 medium onion- chopped
Grated Italian Cheese
Kosher salt and Freshly ground pepper
Directions:
Cook the potato slices in a skillet on a medium heat. Do not crowd the pan and lay the potato slices across bottom of the pan. Cook until they are golden on both sides.
Beat the eggs in another bowl with the water- season with salt and pepper.
Pour the beaten eggs over the potatoes. Move the eggs so that they are evenly distributed throughout the pan.
Turn heat to medium low and cook until the eggs are almost done.
Pan-cover the skillet with another frying pan (same size) and flip it so it is now upside down in the other pan. Let it cook in that pan. Cover and let cook another few minutes until the eggs are done in the center.
Nicky D Cooks: I am owner and operator of Nicky D Cooks -Authentic Handcrafted Italian Biscotti and Pizzelle. I can be found on my blog and webpage @ http://www.nickydcooks.com/.
Check out my facebook page @ http://www.facebook.com/nicky.d.cooks or like my fan page @ Nicky D Cooks Foodie Fan Page for more information and great recipes.