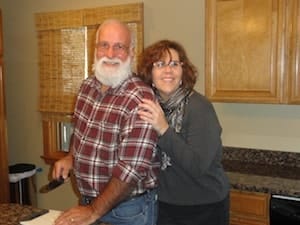 By Nicky D Cooks
I have a great Dad. While I was growing up, he was the best Dad any kid could ever ask for. He could put my hair in braids, play games with me and bring me a glass of juice while I was sitting on the couch watching my favorite TV show.
I guess you could say I was Daddy's little girl. Yes, he spoiled me. How could he not, I looked like a mini version of him growing up. Even now I still look just like him, nothing really has changed.  The only difference is that we have aged a bit and have gotten a few more grey hairs.
From my parents, I inherited the best traits each from them. I look like my mellow, Portuguese Dad but I have my mother's fiery Italian personality.
I would say it is a healthy combination of the two, I guess I have the best of both worlds.
The other familial trait that was passes along to me from my parents was the ability to cook. Both parents cooked meals in our house growing up; they were equally adept in the kitchen.
I was a lucky to have this experience as a kid growing up. It explained why I always loved to be in the kitchen with them.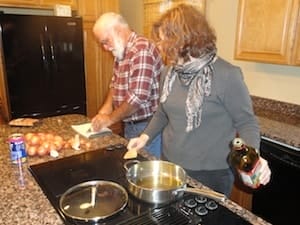 One of my fondest memories of my Dad in the kitchen is of him cooking his famous football food. As a child, I liked football season.  Not only did I get to hang out with my Dad and watch football, but there was a shift in the type of cooking that went on in the house.
We called it football food. This genre of food that my Dad would make that only came out during football season, hence the term football food.
My Dad would help cook throughout the year but all that changed when football season started. During this time, my Dad began to cook the "Sundays Dinners".  Sundays were usually reserved for big Italian dinners, but not during football season.
My Dad is a huge football fan.  He would watch his favorite team, and also would like to watch other games.  On Sundays, the TV went on after lunch and stayed on most of the day.  He just liked to watch football and eat good food.
We still ate our big dinners together as a family, that was a must and that never changed. The cuisine was different, it was football food. We went about our business on Sundays and life went on, however there was always the din of the football game in the background.
It was always fun to help my Dad cook on game days.  We would be in the kitchen preparing the food and the football game was on the TV, there was just a hint of excitement in the air. I loved the way the house smelled on these days.
My Dad could make almost anything and it would be incredible. He could cook some Italian dishes, but Ma did most of that type of cooking. Dad's pot roast is mouth wateringly fork tender, his BBQ spare ribs are mind blowing, he makes a mean beef stew and his chicken soup is to die for. My Dad is the master of the crock-pot, the czar of grilled sausage and the tycoon of tacos.
When the play offs came and during the Super Bowl, my Dad stepped up his game. He then brought out some favorites that only came out during these types of games. He would make his special game day chili and chicken wing, nachos, assorted dips and chips.
Sometimes we had a large crowd and other times it was just the immediate family. No matter the amount of people, the food portions never changed. My Dad's worst fear was that half time would come and he would run out of food.
My Dad would always have his favorites stand by foods during these big games, but he would always like to add a few new dishes as well. That was always exciting because you never knew what he would make until it was game day.
I always think about how much fun the Super Bowl was for me growing up, and now I try to the same for my family. I do enjoy a good game of football but I think that I enjoy the football food a little more.
My Dad recently came in for a visit and I had to have him make one of his specialty football foods while he was here. It was so much fun to cook with my Dad; it reminded me of being a kid in the kitchen again with him.
It was a special for me to do this again, and my children loved coming in from school having these delicious snacks waiting for them.
He shared one of his recipes for a great game day snack
I hope that you enjoy it.
Mangia Bene,
Nicky
Dad's Mini Italian Sausage Calzones
Ingredients:
1lb Italian Chicken sausage- removed from casings
2 small onions- finely diced
2 tablespoons olive oil
2 cups shredded mozzarella
2 cans large of refrigerated biscuits
Marinara sauce or pizza sauce for dipping
Directions:
Preheat oven according to biscuit directions. In a large frying pan, heat the olive oil over a medium heat and add the sausage and the onion.
Cook it until it is golden brown, season with salt and pepper to taste and drain off any excess oil. Let it cool.
Roll out biscuits into a large circle. In the center of the biscuit add a heaping tablespoon of the sausage, and then add a heaping tablespoon of shredded mozzarella cheese to that.
Fold the edges over and bring together to seal. Use a fork to seal the edges together.  Bake according to directions or until golden brown.
Serve with warm marinara sauce
These mini calzones work well will pizza dough or readymade pie crust, just cut into desired mini size and roll into circles, bake @ between 350- 375 for 20-30 min or until golden brown (oven times and temperature  may vary depending on the size and thickness of the dough)
Nicky D Cooks: I am owner and operator of Nicky D Cooks -Authentic Handcrafted Italian Biscotti and Pizzelle. I can be found on my blog and webpage @ http://www.nickydcooks.com/. Check out my facebook page @ http://www.facebook.com/nicky.d.cooks or like my fan page @ Nicky D Cooks Foodie Fan Page for more information and great recipes.