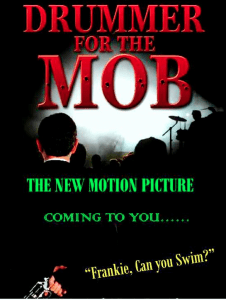 By Christopher Cussat
The Mafia is coming back full-force to Pittsburgh—in the upcoming feature-length movie, "Drummer for the Mob"—which is scheduled to be shot in and around the city during 2014.
Set in Pittsburgh in the 1970s, "Drummer for the Mob" relates the story of Frankie Severino, a musician and leader of a local 'cover' rock band called the "Nite Lites." It also depicts his relationship with members of organized crime who typically owned and managed the after-hours clubs and 'super' clubs of that period.
Based on actual events, "Drummer" is a Romeo and Juliet-type story about Frankie's growing love for the very young Toni (which of course was frowned upon by society at the time). As it turns out, Toni actually saves him from the encircling tentacles of the Mob, which begin using Frankie as a courier of sorts.
According to the film's director, Debby Schwartz, the inspiration behind "Drummer for the Mob" was the real Frank Catazano's life. "The book he wrote is his true story about his life connected to the Mob back in 1973." After Catazano wrote the book, he was introduced to Raphael Serebreny (commonly known as Rafe), a film producer/writer for over 30 years. "Catazano asked Rafe if he thought his book of the same title was movie material—Rafe believed that with some improvement (in terms of selling it as a commercial movie) it could be," she explains.

The actual connection with Pittsburgh is that Catazano has lived in the city his entire life, and all of the plot takes place there. Schwartz notes that the story occurs during the Mob's 'hey day' in Pittsburgh through the early 1970s. "We set the story in 1973 before the big 'clean-up' of the Mob was done," she adds.
But "Drummer" is not another gangster movie. It's a cautionary tale of how an educated, talented, ad copywriter-by day, and drummer in a rock band-by night, can become infatuated with 'the life' of a wise guy (as well as the sex, drugs, and rock 'n roll nightlife). In effect, Frankie loses his grasp of reality and the things in life that are important—that is until he meets the young and beautiful Toni.
Schwartz says what makes "Drummer" different from other Mafia-themed movies is that it is not just about the Mob. "It is also a love story about Frankie meeting the love of his life—and about Frankie's inner turmoil about working for the Mob or leaving it for the love of his life." She adds that "Drummer" also vividly shows the wild life styles that the Mob led—with wine, women, drugs, violence, and sex—as if those were the norm. "In addition, it uncovers the strange relationships the law had with the different crime families, as well as characterizing a hit woman that the crime families knew had a split personality and depicts her mental state as it unfolds right before our eyes." "Finally and perhaps most importantly," Schwartz concludes, "it's about the heart and compassion one particular mobster had."
Although some Italian-Americans may not love the public's or Hollywood's long and repeated connections between their heritage and organized crime—realistically, it is a part not only of American history, but also of the rich, award-winning, and memorable cinematic history as well. Schwartz's opinion about this is that the connections between organized crime and Italian-Americans are really the same as any other crime family and their heritage (Irish, Jewish, etc.). "In other words, we can never assume that just because you are Italian that you're a mobster—I knew people in the Italian Mafia and there definitely is a difference between them and Italian Americans as a whole!"
Lastly, she believes that "Drummer" portrays and relates these connections as realistically as is possible and that it does not make the audience think that every Italian is in the Mob—only those who wanted to be or were brought up to be a part of it. "As the director, I am going to try and make this as believable as is humanly possible, and I have been and will be consulting with people who led that life in the 1970s while portraying why they chose that life."
Top billed cast of "Drummer for the Mob" includes: Eddie Mekka, Justin Rose, Lisa Gail, Alfred Sauchelli Jr., Carrie Lee Martz, and Anastacia Carroll. The film is being produced by Performance with Passion Players (a 501(C)3 not for profit company for the Arts) which has a dedicated mission giving actors opportunities to launch their careers.
For more information on the film and its fundraising efforts, please visit: http://drummerforthemob.com. For any other questions about donations or investment opportunities, please contact Performance With Passion Players at 732.922.0483 or the film's supervising producer, Michael Schwartz, at 732.670.3652.