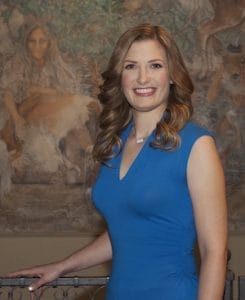 This past week marked the premiere of the new season of the popular PBS television series Genealogy Roadshow.
The show, part detective story and part emotional journey, combines history and science to uncover fascinating stories of diverse Americans. This season, the show follows a diverse cast of participants on an emotional journey that uses history and science to uncover their fascinating family stories. Each individual's past will link to a larger community history, revealing the rich cultural tapestry of America. The programs feature participants from six American cities — Albuquerque, Miami, Houston, Boston, Providence and Los Angeles — who want to explore a genealogical mystery.
We chatted via email with Mary Tedesco, co-host of Genealogy Roadshow and Founder of ORIGINS ITALY, a firm specializing in Italian-American American genealogical research, about her show, her firm and uncovered a little bit about her Italian heritage.
Ciao Pittsburgh: For our readers who are not familiar with your show, can you please give them an overview of Genealogy Roadshow? 
Mary: Genealogy Roadshow is the perfect complement to the mega-trending family history movement in America. People really want to find out from where they came; to whom they are related; and, by association, who they are. The series brings to the TV audience personal family histories—stories that unfold in surprising and often emotional ways; stories that make you laugh, make you tear up and cry, or maybe just nod and smile. Transcending nationalities, ethnicities, races and cultures, the program underscores the noble idea that we share life through understanding and empathy. I think Genealogy Roadshow illustrates that people are not so different from one another, but are a part of the same humanity. Or as my great grandmother always said, "All people are like us." Our new season of Genealogy Roadshow airs on PBS every Tuesday from May 17, 2016 through June 28, 2016 @ 8:00 PM EDT / 7:00 PM CDT.

Ciao Pittsburgh: What is the most rewarding aspect of working on the show?
Mary: The most rewarding aspect for me is becoming a real participant in each guest's journey of discovery. Like when an unknown ancestor is revealed, the guest will often be enthralled and want to know everything about that individual. You can see the guest's mind racing, trying to remember references from the past. Then I'm able to reveal more and more from our research. It feeds on itself. Everybody, including the audience, is swept up in the moment. I feel the guest's excitement, fulfillment and pride as the new knowledge brings a deeper understanding of family roots. You can often sense that lives will be changed for the better as a result of the hard work and scrupulous research of the Genealogy Roadshow research team.
Ciao Pittsburgh: What inspired you to become a genealogist? 
Mary: My paternal grandparents were my true inspiration. They always spoke so warmly about their childhoods in Italy. I wanted to know more and more. I learned to speak Italian and later got to know many relatives in Italy. Also, genealogical research fascinates me, because you never know what you will or will not find. But the best part is that I have the privilege of traveling to Italy to conduct client genealogical research on a regular basis. What can be better than that? 
Ciao Pittsburgh: Can you tell us about your Italian heritage? 
Mary: I'm half Italian. My paternal grandparents immigrated from Italy in 1929 and 1946. My grandfather Edward is from a small town in Calabria called San Pietro a Maida, and my grandmother Loredana was born in Rovereto in Trentino-Alto Adige. My grandparents instilled a sense of pride in me about our Italian origins. My childhood memories are filled with family, great stories, and Sunday dinners with the best Italian food you can imagine that seemed to last all day. Genealogical research has enhanced my sense of family connections and has given our family new stories to tell from long long ago.
Ciao Pittsburgh: What are some of your favorite Italian traditions and why?
Mary: Family dinners on Sunday afternoon will always be my favorite Italian tradition. Nothing says "I love you" more than chatting and laughing, and eating (of course), with loved ones for hours on end. With Italians there is a sense of love and loyalty that transcends boarders and cultures. It is what everybody wants — unquestioned acceptance. You are important because you are you.
Ciao Pittsburgh: What does being Italian mean to you?
Mary: I am proud to of my Italian roots.  There are so many wonderful things about Italian history and culture that make me want to shout from the mountaintops. Everything from art and architecture to philosophy and literature to science and engineering to music and mathematics have been deeply influenced by Italian genius. And, oh, let's not forget the food! The best, because it brings people together and keeps them coming back. But of all the wonderful things Italian, my deepest affection is for the genuine warmth of the Italian heart. There is no heart like the Italian heart. 
Ciao Pittsburgh: Who in your life has inspired you the most?
Mary: My parents and grandparents have inspired and encouraged me in everything that I do. I'm very grateful and very lucky!
Ciao Pittsburgh: Have you done your own research into your background? Did you come across anything interesting? 
Mary: Like many other professional genealogists, I began my genealogical journey with the story of my own family. Family history research quickly became a passion. Funny or odd things often come up in genealogical research – that's part of the fun! For example, I was always told that my great grandfather Mario, who was long deceased, was very tall, "over six feet." But when I obtained his military record, he was only 5 foot 5 inches! My grandmother reacted with, "Oh, that's very interesting. He looked so much taller." My aunt insisted that the records were wrong. "He was over 6 feet," she proclaimed. So much for family lore! 
Ciao Pittsburgh: What advice do you have for someone in learning more about their Italian heritage? Where do they begin?
Mary: 1. Begin at home. Ask your older relatives about your family's Italian origins and if they have any family documents or letters from Italy. The older generation is a priceless commodity to family historians. They know stories that no one else in the family knows. 
2. Continue research online. After asking family members for information, I'd recommend researching online. There are many genealogy websites, some are free and others require a paid subscription.
3. Take it local. Online genealogical research is just the tip of the iceberg. As your research continues, you'll inevitably need to visit local repositories both in the USA and Italy to trace your ancestors. This can be great fun, and the perfect way to walk in your ancestor's footsteps!
Ciao Pittsburgh: What else would you like our readers to know about Genealogy Roadshow or about yourself?
Mary: Genealogy Roadshow is a family affair. The show reminds each of us that we have special and unique stories just waiting to be discovered. What will you uncover?
For more information on Season 3 of Genealogy Roadshow, visit http://www.pbs.org/genealogy-roadshow/home/.