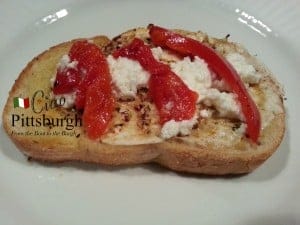 Ingredients
1 slice of Italian bread
1 Egg
1 tsp. Ciao Pittsburgh's Aroma Piccante
1 tsp. Ricotta Cheese
3 Roasted Red Pepper Strips
1 tbsp Butter
Instructions
1. Cut hole in bread with shot glass.
2. Spread butter on the top of the bread. Coat bottom of pan with with butter.
3. Place bread in pan with the butter side of bread up.
4. Crack and place egg in hole and sprinkle teaspoon of Piccante on both the egg and bread.
5. Turn burner to low heat. Cook for 5 minutes and then flip bread over and cook for another 1 1/2 – 2 minutes.
6. Flip bread back over and place on a dish.
7. Now add the Ricotta cheese and roasted red pepper strips. If using a jar red pepper, drain and dry it before using.
© Ciao Pittsburgh 2014 (www.CiaoPittsburgh.com)