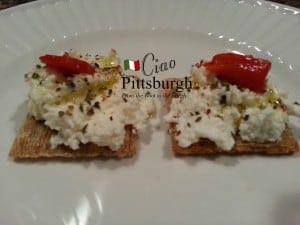 Ingredients:
1 tsp Ricotta
Original Triscuits
Extra Virgin Olive Oil
Roasted Red Peppers
1/2 tsp Ciao Pittsburgh's AROMA seasoning per cracker
Directions:
Place 1 tsp of Ricotta on cracker
Drizzle olive oil and sprinkle Aroma seasoning.
Add roasted red pepper chunk. If using jar red pepper, drain and dry it before using.
© Ciao Pittsburgh 2014 (www.CiaoPittsburgh.com)