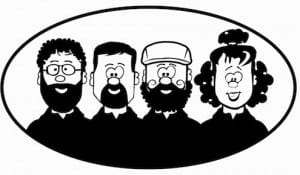 What began as a hobby in "Dad's" spare room has grown into a successful family business over the past ten years. Today, CHi Signs & Designs, Inc., located in Oakmont, has become one of the Pittsburgh region's best printing and marketing shops. The CHi team includes CEO and founder, Chuck "Dad" DeSabato; his son Seth DeSabato, president and designer; daughter, Heather Sneddon, owner and director of business development; and her husband, Chuck Sneddon, CHi's production manager.
The company specializes in manufacturing, installation and repair of all types of signs. In addition, CHi produces a full line of customized promotional items including T-shirts, uniforms and apparel, glass and mirror etching, and engravings. They have become a one-stop shop for signs, promotional items, apparel, printing, etching and engraving. Chuck and Heather took some time out of their busy schedule to tell us more about the family business and growing up in an Italian family.
What do you find to be the most rewarding aspect of being part of a family-owned business? 
Chuck: Being able to start and maintain a viable business from the ground up with the family and witnessing the success of the company flourishing in our hands.  As a father, it is a privilege not only as part owner, but as a parent to step back and watch them embrace their future.

Where do you currently live? How long have you lived in the area and what do you enjoy most about the region? 
Chuck: We live in Plum Borough. Our family has been in the Pittsburgh region for 5 generations.  What we enjoy most about the area is the history of earlier generations and their small family businesses as well as the history of the city itself.
Can you tell us about your Italian heritage?
Chuck: Ippolito, my parental grandfather, came to the United States in 1904 and eventually opened his own furniture repair and cabinet-making business in Bloomfield. Cologero, my maternal grandfather, also arrived in the U.S. in 1904 and opened his family business, a produce market in Garfield. Both of my grandmothers were born in this country.
What are some of your favorite Italian traditions and why? 
Chuck: The holidays—it's a time to forget about all of the day-to-day stressors and focus on the family traditions. And of course, the homemade food, drinks and desserts.
Have you had a chance to visit Italy and the town where your ancestors are from? 
Chuck: Yes, Ippolito immigrated from Castel di Sangro, Abruzzo; and Cologero was from Altauilla, Sicily.
What does being Italian mean to you? 
Chuck: We must maintain the high standards and work ethics that our ancestors brought to this country.
Do you have any particular favorite Italian restaurants (here in Pittsburgh or anywhere in the country)?
Chuck: Some of my favorite places include Pasqualino's Pizza Palace, Martchitelli's, DeNunzio, and Giavisto.
So, what separates your business from other similar companies in the region? How do you stand out? 
Chuck: What sets CHi apart is our commitment to each client and individual needs. We pride ourselves on the establishment and development of business relationships while maintaining a professional, profitable company that remains true to the family values on which it was founded.  We are also licensed ad specialists which provides international access to a wider range of products and services than other companies. Finally, we treat all of our customers like they are family.
What have been the keys to the company's success?
Chuck: Never forget where you came from and stay true to your values.
In building your business, what have been your most  important learning experiences?
Chuck: Quality product and service speak volumes about your business. Your business is a direct representation of yourself.
For more information on CHi Signs & Designs, visit www.signsbychi.com.