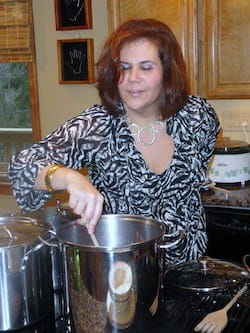 By Nicky D Cooks
March is such a busy month and has 3 of my favorite holidays in it; St. Joseph's day, Palm Sunday and Easter Sunday.  For a foodie like me, these wonderful holidays all together can only mean one thing- more time at the gym so I can eat all of the delicious dishes that come with each of these holidays.
I get most excited to make the Italian Ham Pie. It is known in the Italian–American community by several names. Some people call it Pizza Gain and others call it Pizza Rustica, it can also be referred to as simply as Ham Pie.
In my family we use all the names when talking about this dish- it depends on who is talking about it. No matter what you call it, it is a delicious dish that will cause your mouth to water at the mere mention of it.
Italian Ham Pie is a kind of savory quiche like pie, filled with eggs and Italian cured (smoked) meats and Italian cheeses.
In the Italian–American Community, this is traditional dish served at Easter dinner.  Eating the Pizza Rustica is a symbolic representation of "breaking the fast" from meat which happens during Lent.  Lent is a time many Catholics and Christians abstain from eating meat on Fridays. The multitude of meat ingredients in the pie represents all the meat that was not eaten during the Lenten season.
I really can't think of a better way to break a fasting from meat than eating a rich meat and cheese laden pie.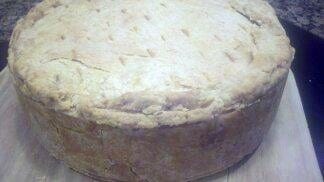 Every family has their own recipe, and each is unique to them. The main components are eggs, Italian Meats and Italian cheeses.  However, there are an infinite number of possibilities and combinations when making it.
Some recipes use the basics and add ricotta cheese and cooked Italian Sausage others call for cooked greens to be added to it. Any way it is made- it will be delicious.
I gather my children and we get busy cutting the various meats and cheese. I tell them that this recipe is their Great -Great Grandma Rosie's. It came with her from Italy and that the recipe is now almost 100 years old.
I drone on to my children about how they must carry on these traditions and make the Pizza Rustica when I am too old. My daughter rolls her eyes and my son eats another piece of prosciutto. I know they heard me, they hear this message every year. Besides I have a loud voice, how could they not hear me?
The ingredients are lovingly mixed together, the crust is ready and the oven is prepped.  The pie is ready to go into the oven.
The final and most important step is almost complete- the blessing of the pie. This keeps the maloik from the pie and baking process.
I know it may sound absurd, but it is an ingrained technique that was taught to me as a child, and it is something that I continue to do as an adult. I do have a fear that if I do not do this, then my pies will taste bad? Yes I do.
All I know is that my Pizza Rustica tastes pretty darn good, and my family and friends thoroughly enjoy it. If a blessing is the final step in making this delicacy, and that is what Great Grandma Rosie did- so be it. It is tradition and you can't argue with that.
Pizza Gain, Pizza Rustica or Italian Ham Pie, any way you name it is a wonderful addition to any Easter dinner. It is a delightful dish that is served as an appetizer or with the first course and left out throughout the meal so people can nibble on it between courses.
I have included my recipe for an Italian Ham Pie using 9 inch pie crust. I modified the recipe and put it in a deep dish pan for the pictures that I have included in the blog. This is a very forgiving dish to make and use what ingredients you like and what is available. Use whatever crust that you like- homemade or readymade are perfect.
I hope that you enjoy it.
Mangia Bene,
Nicky
Nicky D Cooks: Pizza Rustica Italian Ham Pie 
Ingredients:
Pie crust- 9" store bought or homemade (enough for top and bottom)
9 Eggs
3 hard boiled-chopped
Italian grated cheese (about ¼ cup)
1lb basket cheese or fresh mozzarella-chopped
1 ½- 2 lb Italian meats – sliced thin (capicola, pepperoni, salami, prosciutto, soppresata, abbruzzi sausage)
1 Teaspoon of cracked black pepper
Egg white for egg wash
Directions:
Dice all the meats and gently mix them together in a large bowl and set aside. Mix 9 eggs, grated cheese, and pepper in a separate bowl and set aside. Using the 9″ pie pan with either the prepared dough or the homemade crust lined on the bottom of the pan
Layer the meats, cheeses and chopped eggs into the pan and then keep layering until all ingredients are gone.
Roll out the rest of your dough and cover – crimping the edges. Cut slits about six slits in the top and brush with egg white.
Bake at 350 degrees for 1 to 1 1/2 hours- knife comes out clean and top is golden.