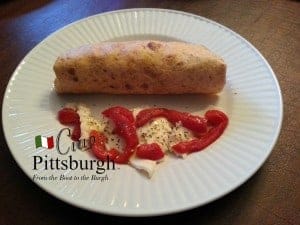 Ingredients: Serving size 3 large wraps
3 large tomato and basil wraps
Half of a single roasted red pepper
24oz. large shrimp (cooked)
½ cup Mayo
1 tbsp  Ciao Pittsburgh's AROMA seasoning
½ tsp of 

minced

garlic
Quarter piece of lemon wedge
6 pieces of Arugula lettuce
1/2 medium onion chopped
½ piece of Fresh Mozzarella cheese
Extra virgin olive oil for cooking
Cooking Instructions:
1. Mix 1 tbsp of AROMA in ½ cup of Mayo. Place in refrigerator until you're ready to smear it on the wrap.
2. Thinly slice mozzarella.
3. Cut roasted red peppers into strips. If using jar red peppers, drain and dry it before using.
4. Coat pan with extra virgin olive oil. Add shrimp, ½ teaspoon of minced garlic and squirt lemon juice on shrimp. Sauté for a few minutes.
5. In another pan coat pan with extra virgin olive oil and sauté onion.
6. Place all 3 wraps between a damp paper towel, place in microwave for 45 seconds. Once wrap is done take out and place on a plate. Smear wrap with AROMA mayo mix, add shrimp, sautéed onions, roasted red pepper strips, thin sliced mozzarella cheese and 2 pieces of arugula on each wrap.
7. Roll and serve.
8. Place the left over mozzarella and roasted red pepper strips on the side of your plate, drizzle olive oil, and sprinkle AROMA seasoning on top.
© Ciao Pittsburgh 2014 (www.CiaoPittsburgh.com)