A new year has begun and the way I look at it, it's a great opportunity to cook some new and wonderful foods.  January also is the perfect time to explore some of the hearty squashes that are available at the grocery stores. As well as the eggs laying around in your house. To make things easier, you might want to invest in an egg cooker available over at www.productexpert.com. This way your meal can be made quickly, and you'll be able to have convenient gear around you whenever you need.
Spaghetti Squash is a delightful and robust winter vegetable that can be easily cooked in a variety of ways. It has a mild flavor and makes it the perfect accompaniment for so many sauces.
I am partial to oven roasted spaghetti squash. The sweetness and nutty flavors really are brought out when prepared this way. Once the squash is cooled, the insides are scooped out and the strands resemble noodles, hence the name spaghetti squash.
One way to serve this squash is this new recipe: AROMA Spaghetti Squash and Eggs. This is a gluten free, carb free alternative to the traditional Italian Peasant dish of Spaghetti and Eggs.
Start with some cooked spaghetti squash, for a simple oven roasted recipe follow these directions see below.
Add about half of a cup of cooked spaghetti squash with garlic flavored olive oil to a skillet. If you want, skip the garlic flavored oil and use a good quality extra virgin olive oil. Make a well in the middle to add the egg. Lightly season the spaghetti squash with AROMA Italian Seasoning, salt and pepper.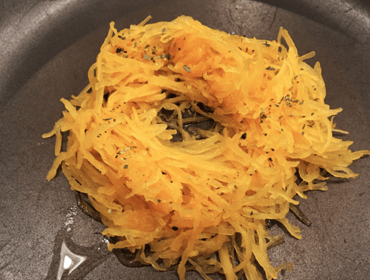 Crack the egg in the center of the whole of the spaghetti squash nest, add more AROMA Italian seasoning. This is so beautiful looking now. The egg will begin to settle and cook and it will be ready to flip over.

Gently flip the spaghetti squash and egg over, and add Pecorino Romano cheese to let it finish cooking in the skillet. The squash will get a beautiful golden brown crust.
Garnish with a little extra cheese, serve with a good cup of Ciao Pittsburgh's La Famiglia Blend coffee and this is a magnificent breakfast. The best part of it, is that it only takes minutes to make. This could easily be substituted for any meal, it's a nutritious dish that is simple and delicious.
Eat well and enjoy,
Ciao
AROMA Spaghetti Squash and Eggs
Ingredients:
½ c

 

oven roasted spaghetti squash
½ tsp garlic flavored olive oil
AROMA Italian Seasoning to taste (about ½ tsp)
1 heaping tablespoon Pecorino Romano grated cheese
Directions:
In a small skillet over medium-low heat add the garlic infused oil and the spaghetti squash. Make a well in the center of the squash, forming a "nest" of squash. Season the spaghetti squash with half of the AROMA Italian Seasoning, salt and pepper. Crack and egg in the center of the well, season again with the rest of the AROMA Italian Seasoning and then flip the egg and spaghetti squash.
Garnish with freshly grated Pecorino Romano Cheese and continue it cook in the skillet. Adjust the seasonings to taste and serve immediately.
Oven Roasted Squash
1 squash, extra virgin olive oil, salt and pepper. Cut the spaghetti squash lengthwise and remove seeds. Place on a baking dish lined with foil, and brush the squash generously with the olive oil (a few tablespoons). Season with salt and pepper. Bake at 400 degrees until fork tender. When squash is cool, remove the squash flesh with a fork.
Originally from Rhode Island, Nicky D Cooks is a writer for Ciao Pittsburgh who currently resides in Peters Township. You can find more of her recipes here.