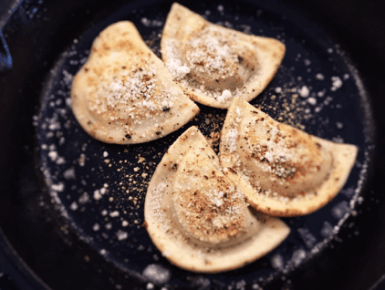 Want to show your loved ones a little Pittsburgh style amore this Valentine's day? Then I suggest that you cook them this Steel City inspired dinner, AROMA Pierogis.
Let's face it, Pittsburghers enjoy their pierogis. What's not to love about these tender dumplings? Dough (pasta like) wrapped around a delicious sweet or savory filling.  The dumplings are boiled and pan fried with a little butter.
AROMA Pierogis are a twist on the traditional method of eating these tasty treats. By adding the AROMA Italian Seasoning and some grated Italian cheese, the pierogis become transformed into a hybrid dish. An Eastern European –Italian cheesy garlic bread melt in your mouth kind of dish. It is a perfect representation of what Pittsburgh has become, a blending of old school foods and the new adaptations on these dishes.
Yes, our city is that awesome!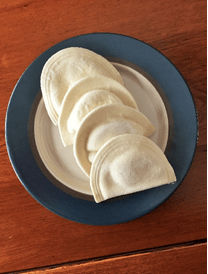 Start with simple pierogis, homemade ones are the best, but store bought ones work well too.  Cheese, potato, Italian sausage, spinach fillings work well but the choice is up to you.
If you can find some gluten free kind, I highly suggest using this recipe, taste is outstanding!
Cook the pierogis in a pan of salted water and according to the directions, drain them then set them aside.
The next step is choose which skillet you want to use. I prefer my cast iron because I favor the way the pierogis get the char to them and the crispness to the dough, but a non-stick skillet works well too.
Melt about half of a teaspoon of butter in a skillet. Butter will yield a flavorable taste with the AROMA Italian Seasoning and dumpling combination. Olive oil will work too, but it does change the taste slightly. The choice is up to you and what you prefer.
Add the pierogis, sprinkle them with some AROMA Italian Seasoning. Once they are golden brown, turn them over add a little more of the seasoning and sprinkle them with some Pecorino Romano Cheese. The salty cheese marries nicely with the flavors from this seasoning. Feel free to could choose another kind of grated cheese, but this is the kind I favor. 
I like to serve them with some sautéed greens, and garnish it with a little extra grated cheese. This is a quick, healthy meal that says amore Pittsburgh style.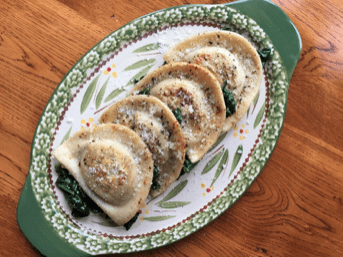 Eat well and enjoy,
Ciao
AROMA Pierogis with Pecorino Romano Cheese
1 serving
Ingredients:
3-4 pierogis (about 3-4 per person)

½ tsp unsalted butter

AROMA Italian Seasoning

to taste (about ¼ tsp)

1 heaping tablespoon Pecorino Romano grated cheese

Salt and pepper to taste
Directions:
Cook the pierogis in a pot of salted water according to directions, drain and set aside.

In a skillet over medium-low heat add butter until melted. Now add the pierogis and season with half of the AROMA Italian Seasoning. Cook until slightly golden, turn them over, sprinkle with the remaining AROMA Italian Seasoning.

Garnish with freshly grated Pecorino Romano Cheese and continue to cook in the skillet for a minute until the cheese is warmed. Adjust the seasonings to taste and serve immediately.
Originally from Rhode Island, Nicky D Cooks is a writer for Ciao Pittsburgh who currently resides in Peters Township. You can find more of her recipes here.