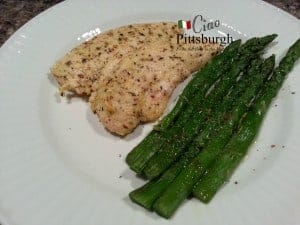 Ingredients:
1/2 cup fresh grated Kraft Parmesan cheese
2 tbsp of Ciao Pittsburgh's Aroma or Aroma Piccante seasoning
1/2 tsp garlic powder
6 boneless skinless chicken tenders
Asparagus
Instructions:
1. Preheat oven 400 F.
2. Mix the cheese, Aroma or Aroma Piccante seasoning and garlic powder.
3. Moisten the chicken with water and then coat with cheese mixture. Place in shallow baking pan.
4. Bake at 20 to 25 minutes or until chicken is done (165 F).
5. Steam asparagus until tender. Place on plate, drizzle extra virgin olive oil, and sprinkle with Aroma seasoning.
© Ciao Pittsburgh 2014 (www.CiaoPittsburgh.com)